NAPCO Security Systems Inc. (Nasdaq: NSSC) is a diversified manufacturer and designer (950 employees worldwide) of electronic security products in three key areas of the industry: intrusion and fire alarms, access control systems, and electronic locking. The intrusion and fire alarm division supplies approximately 8,000 professional security installation companies with a wide range of products and systems. The locking division (Alarm Lock) is a designer and manufacturer of electronic locking devices for all types of doors, which are installed by a worldwide network of about 6,000 locksmiths for use in schools, military bases, airports, businesses, and government facilities. NAPCO's third division is Continental Instruments, which designs and manufactures access control systems for all types of buildings, which are sold by a network of about 1,000 security system integrators. Access control systems are designed to limit access to individuals with the proper identification into buildings, rooms, elevators, and specific areas such as restricted parking lots. The Company also has a custom manufacturing business which allows it to make specialized security products for high volume security installation providers such as ADT.
The majority of NAPCO's products are sold worldwide in more than 60 countries. An office was recently opened in the Middle East in Dubai, United Arab Emirates [UAE], which serves as a central distribution point to the 22 countries in that security-conscious region of the world. International sales accounted for about 16% of the Company's revenues for fiscal year 2006 and 14% for the first nine months of fiscal 2007. The Company's fiscal year begins on July 1 and ends on June 30. Historically, the end users of NAPCO's products want to install its products prior to the summer; therefore sales of its products peak in the period April 1 through June 30, the Company's fiscal fourth quarter, and are reduced in the period July 1 through September 30, the Company's fiscal first quarter.
The Company owns and operates manufacturing facilities in Amityville, NY, and the Dominican Republic. A significant portion of the company's operating expenses are fixed and do not fluctuate with changes in customer demand or utilization of its manufacturing capacity; therefore, as production rises and factory utilization increases in response to customer demand for NAPCO's products the Company's fixed costs get spread out over increased output resulting in increased profit margins. In February 2004, the Company entered into a joint venture with an unrelated company to sell security related products, including those manufactured by the Company, in the Middle East. NAPCO owns 51% of the company, an LLC organized in New York, which has its main operations in the UAE. Revenues generated by this joint venture were approximately 2% of NAPCO's revenues for fiscal 2006 and 2% for the first nine months of fiscal 2007. The security products market is characterized by constant innovation in product design and manufacturing technologies. Generally, the Company devotes between 7 – 8% of revenues to R&D efforts on an annual basis. Products resulting from R&D investments in the first nine months of fiscal 2007 did not contribute materially to revenue during fiscal 2007, but should provide material benefit in future years.
The company was founded in 1969 by Chairman & CEO Richard Soloway (who owns approximately 6 million shares of common stock – a 30% ownership stake) and is headquartered in Amityville, NY. NAPCO's alarms, locks, and building access control systems have earned a reputation for technical excellence and quality from a global sales network consisting of over 15,000 professional security dealers. The Company has excellent potential for further rapid growth in a global market that exceeds $30 billion for electronic security products and systems. NAPCO began as a public company in 1972, with an IPO of 100,000 shares which raised $750,000. The IPO is the only equity financing in NAPCO's history as the Company has generated sufficient cash flow from operations, in addition to having access to a solid credit facility. An investor that purchased a share of NAPCO stock at the time of the Company's IPO in 1972 and held it to the current day would have seen that investment rise more than 71 times in value, as the Company has split its stock nine times in the 35 years since the IPO – rewarding long-term shareholders and providing increased liquidity by increasing the total share count to just under 20 million.
The Company most recently reported its FY07 results with its third highest net income ever despite an economic environment that includes decreasing home sales & tightening credit markets. NAPCO expects that global restructuring and new product introductions for ADT will resume growth in the upcoming fiscal year, which ends June 30, 2008. For its fiscal fourth quarter, NAPCO decreased inventory by over $3 million during to correct for previous high sales forecasts. The Company increased its credit line and R&D efforts to focus on accretive acquisitions and new product introductions to ensure shareholder value creation over the next fiscal year. My $9 Target Values NAPCO at 2.3X my FY08 sales estimate of $76.5M (10% growth over FY06), which represents a 10% premium to the 2 - 2.1x sales that Tyco (NYSE: TYC) paid to acquire Sensormatic & SecurityLink in 2001.
New products include Safewatch Videoview, which allows ADT customers to monitor their premises as a real-time, streaming video feed. This video feed is available to customers using their cell phones or computers and provides a cost effective, flexible video monitoring security solution. Safewatch EZ is NAPCO's easy-to-use alarm system designed for ADT to avoid the occurrence of false alarms. Finally, iSee Video and Freedom 64 are NAPCO's video technology and code-free alarm panel technology designed to addresses the needs of the entire alarm industry beyond ADT (over 20 million customers).
NAPCO is poised to resume its solid history of growth and shareholder return as accretive acquisitions and increased Dominican factory utilization (with $300 million in low-cost, scalable manufacturing capacity) will expand profit margins in upcoming quarters. The company offers investors a unique investment opportunity as a pure-play, innovative security product manufacturer, whose major competitors have been purchased by large conglomerates in recent years.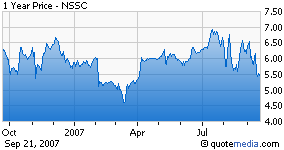 Disclosure: none