On August 28th, 2007, I wrote an analysis of base metals miner Lundin Mining Corporation (LMC). Since I wrote the article, LMC has gone on to score over a 20% gain in under a month.
I believe shares in the company are still undervalued. The fundamental picture for LMC looks great. The company is expanding its base metals production and expects to bring the increased production online in the current quarter. LMC is cash rich and has low debt. Insiders, mainly the Lundin Family, are also increasing their share holdings in the company, a strong indication that good things are on the horizon.
Let's recap a few brief statistics from Lundin's Yahoo! Finance profile:
Total Cash: 388.21M
Total Debt: 47.73M
ROA: 13.01%
ROE: 22.44%
Trailing P/E: 8.1
Forward P/E: 7.19
If we look at the chart, we see a nice smooth uptrend followed by a recent breakout to $12.39. At the moment we are under the recent high which is discouraging. We may see some profit taking in the short-run
LMC 1-year chart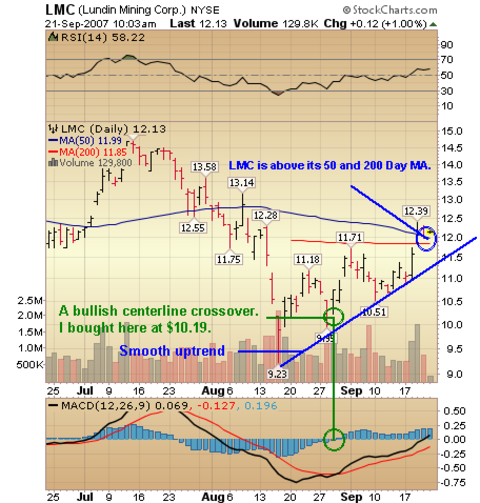 Since the fundamentals look so strong, I expect to see LMC resume a run forward, so long as the market remains in flat to positive territory. I purchased shares of LMC at $10.19 on August 29th, 2007. My end of the year price target for LMC is $14.
Disclosure: The author holds a long position in LMC.