DryShips Inc. (NASDAQ:DRYS) is a global provider of marine transportation services, specializing in the transportation of major and minor bulks cargoes. The company's vessels are able to trade worldwide in a multitude of trade routes carrying a wide range of cargoes for a number of industries but predominantly for commodities, including coal and iron ore for energy and steel production as well as grain for feedstocks.

As of August of fiscal 07, the company owns and operates a fleet of 35 drybulk carriers comprising of 5 Capesize, 27 Panamax, 1 Handymax, and 2 newbuilding Panamax vessels. DryShip's fleet's carrying capacity currently totals over 2.6 million deadweight tons.

There is little doubt of international shipping's vital role in global trade given that 2/3 of the world's goods are transported by sea. DryShips Inc. is part of this industry - an industry with a high level of competition that has proven to be an excellent one, in terms of growth over the trailing five to ten year period. However, the fact is that the shipping industry remains highly cyclical. These fluctuations result from the interaction of various factors between demand and supply. It subsequently prompts volatility, thus effecting profitability. But, having said all that - according to most industry observers, there seem to be no near-term hurdles slowing the shipping market industry,

Projections in relation to the continued upside of this specific market remain optimistic with a strong possibility of it hitting all time highs by end of fiscal '07. All three Baltic dry indices have already hit record levels since mid-July, both individually and together. Capesize FFAs are still trading above current spot rates and it seems that there is no let-up in sight.

A panamax FFA for fiscal 2008 is priced at $52,000, while capesize FFAs are above $100,000, indicating confidence that fiscal 2008 will be another year projected to experience some rough movements. Meanwhile, the [BDI] Baltic Dry Index covering drybulk shipping rates, closed at 8,619 only a few days ago - an all-time high.

The market is now increasing at a relatively fast pace after the summer months, which initially showed signs of a slowdown. It would not be surprising if the market continued posting higher gains from its current levels, especially after a general consensus among analysts, in relation to the number of ships being built and put into service, to 'finally normalize demand levels' only at the start of fiscal 2010 - 2011.

In this context and based on the amazing growth rate DryShips has recently experienced, the company seems, at this stage, to be well - positioned to further benefit and use to its advantage, among other things, the overall market conditions to fuel its growth from a business perspective.

I think that no argument can be made in relation to the fast rise over the past year of DryShips, Inc. After all, its stock was only $12.63 a year ago; its current levels are at $81.75. Its market cap stands at $2.90 billion. Profit margins trailing twelve are currently at almost 64%. Operating margins are extremely healthy posting 48.53%. Revenues of $338.25 million with a gross profit trailing twelve at $174.65 million for a Net income of $216.06 million. Return on equity 44.69%. Insider ownership stands at 40%, Sales growth 47%, EBIT growth 82%. As of April 2007, DryShips paid its eighth consecutive quarterly cash dividen of $0.20 per common shares. Since the company's IPO in February fiscal '05, DryShips has paid total dividends of $1.60 per common share.

On August 24, the company reported profits in the second quarter. Net income rose to $110.2 million, or $3.11 per share, compared with a loss of $808,000, or 3 cents per share, in the year-ago period.
Second-quarter results included a capital gain of $53.8 million from the sale of five vessels. Excluding that gain, net income would have been $56.4 million, or $1.59 per share. Voyage revenue rose to $112.5 million from $54.5 million.. According to company CEO George Economou, 52% of DRYS's operating days for the reminder of 2007 remain unfixed.
Conclusion

I think that these strong results reflect the consistent implementation of the right strategy on the part of the company's management, providing them with significant operating leverage and its top-line growth proves it.

My take is that stock pps/wise has yet to fully saturate its potential to the upside. The stock's yearly chart is nothing short of impressive with a steady and sustainable uptrend adding HH and LL to tape. There is a relatively strong support provided by moving averages thus constituting a basis in allowing stock for higher grounds. The stock is a buy with an expectation to realize $95 - $98 levels short term.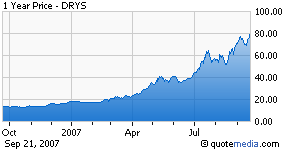 Disclosure: none