"Spansion Inc. (CODE) engages in the design, development, manufacture, and sale of flash memory semiconductors worldwide. This includes the EU. It offers flash memory solutions for microprocessors, controllers, and other programmable semiconductors that run applications in a range of electronic systems, including automotive and industrial, computing and communications, and consumer and gaming. The company's product designs are primarily based on its proprietary two-bit-per-cell MirrorBit technology. It also provides software and hardware development tools, drivers, and simulation models for system-level integration to develop prototype customer designs. The company markets and sells its products directly or through third-party distributors to original equipment manufacturers, original design manufacturers, and contract manufacturers under the Spansion trademark" (Yahoo Finance). Much of the fundamental financial data in this article is from Yahoo Finance.
The above all sounds impressive, and it is. However, Spansion has tough competition. One of those companies, Micron Technology (MU), has been floundering for years in this dog-eat-dog business. Not surprisingly MU is expected to lose -$0.54 in 2012. Can Spansion really be far behind? Spansion missed estimates for Q4 by 50%, when it lost -$0.21/share. The result was not only bad, but the second quarterly miss in a row damages the credibility of CODE's management team. CODE is currently estimated to earn +$0.01 in Q1 2012. Then we are supposed to believe that CODE will make $0.80 in FY2012?
An EU recession is coming, and a US economic slowdown (possibly turning into a recession) is also coming. In fact, ECRI has forecast a recession for the US. For CODE to improve results in a slowing period to make +$0.80 in FY2012 seems highly unlikely. Their business is too competitive. The possibility of a big disappointment is great. Analysts have already started to decrease their FY2012 and 2013 estimates, but they are likely again far behind reality. Yes, the products CODE makes are highly used, but CODE is not the only possible solution for most buyers. In a tough environment the OEM manufacturers will try to pressure the parts manufacturers to cut their prices. Eventually they will do this. CODE's margins will falter. OEM sales will likely falter, exacerbating the problem. This is not a business you want to be in at a time like this. It is not a stock you want to be in either. When the world is in a strong expansion, you like companies such as CODE because they can raise prices in times of high demand with parts shortages. Now is not the time to own stocks in this highly cyclical business. CODE is even trying to outsource some of its manufacturing in order to save costs. Its recent agreement with Hynix Semiconductor (OTC:HXSCL) for Hynix to produce some of its chips is one such effort. However, it is also a sign of weakness.
Spansion has had a recent run up as the market has climbed. I believe this was mostly due to rising expectations for the US and other economies (an expansionary environment that CODE might do well in). The actual results have been a different matter. China has recently cut its FY2012 GDP growth forecast from 8.0% to 7.5%. Other estimates have been cut too. If you look at the chart of CODE, you see that CODE is still in a strong downtrend. That trend has been easing up, but in the last few days, it seems that the overall equities markets have finally recognized the end of immediate term QE from the Fed. The fast, easy expansion that CODE might have done better in is no longer being taken as a given. In an overall market pull back, which may be happening as I write, CODE may get slaughtered. Recent results do not make one think it has turned the corner. Remember that Spansion was in Chapter 11 in 2010. It has made some progress since then, but it is still far from a power house. This is what it would need to be to do well in the coming tougher environment. Remember that Spansion is a spin off of a joint venture of Advance Micro Devices (AMD) and Fujitsu (OTCPK:FJTSY). Neither of those companies have been stellar performers in recent years. The apple probably didn't fall very far from the tree.
The two year chart of CODE provides some technical direction for this trade.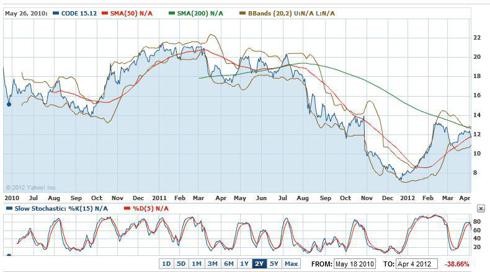 The slow stochastic sub chart shows that CODE is near overbought levels. This is good if you want to sell or short it. The main chart shows that its price is still below its 200-day SMA. This is extremely negative when the overall market has been rallying since October 2011. It marks Spansion as a clear underperformer. Now it looks as if that market will pull back near term.
You should be able to make money on a short position in Spansion during this pull back. If you are currently long you will want to sell before you again end up at the Dec. 2011 low of $7.33 or below. Recognize that the negative Q4 results were not reported until the middle of the recent rally. In that sense the rally has been somewhat of a fake rally for CODE. The CODE rally was based more on the overall economic picture, and it was not based as much on CODE's actual results.
If you believe the overall economic picture is as rosy as some pumpers are saying, keep this stock. It should do okay to well in an expansionary environment. Some pundits are forecasting a much better second half of 2012 than the first half. I do not share that view. Goldman Sach's Jan Hatzius says, "We expect growth to slow in the US, although we do not expect a recession." From what I have seen, FY2012 will be a flat year at best with 1% to 2% GDP growth. At worst the US will go into recession, and China would then likely follow with a hard landing. Neither the slowing growth scenario nor a US recession scenario bode well for CODE. Sales growth is already forecast to be -10% in FY2012. That figure could easily go to -15% to -30%. Plus there is no guarantee that CODE will do well at a -10% figure. Keep in mind that CODE's next five year EPS growth estimate per annum is -16.7%. At best CODE is likely dead money for the rest of the year. At worse, you could lose a lot of your money in this stock. There are better, more sure opportunities for profit. This stock is a sell or a short.
Keep in mind that tech stocks usually perform poorly over the summer. If we are getting a pull back in the overall market now, we will be in the poor performance period for tech stocks soon afterwards. Now is a good time to sell CODE. You will most likely have a good chance to buy back later if you determine that the economy is really going to heat up in the fall. As I said before, I don't see this happening, but it is an option for those who have more faith in this economy and in CODE than I do.
Keep in mind that the easier comparisons of 2011 to 2010 are gone. Comparisons will be tougher to beat this earnings season. Remember that David Zion of Credit Suisse, one of the top financial accounting experts in the country, has estimated that 114 of the S&P500 companies will have to spend more than 10% of their average annual operating cash flow on pension funding short falls this year. This will not only hurt their profitability, it will likely cut into their CAPEX budgets. Keep in mind that some of the possible 2012 sales may have been pulled back into 2011 due to the CAPEX tax break in 2011. FY2012 could turn out to be a bad year for technology. Don't own the weaker technology stocks.
Good luck trading.
Disclosure: I have no positions in any stocks mentioned, but may initiate a short position in CODE over the next 72 hours.