As developing countries start to approach the standard of living of developed nations, it would stand to reason that their citizens will want what we have. One of the first status symbols within their reach is a cell phone. Not only is this a huge convenience and visible sign of wealth, but it's actually an enabler.
Various studies have been performed to show an increase in efficiency in rural areas in everything from optimally selling fish and minimizing loss due to expiry (by calling ahead on the cell phone to determine which village will fetch the best price on any given day after a catch) to getting rich selling cell phones in villages off the back of a bike.
For several weeks, I've been in VIP and CHL, which are Russian and Chinese telecoms, respectively. These are US traded American Depository Receipts. They are each up approximately 70% year to date. I've only been in for several weeks, but I'm still up around 30% in each.
Last week, I came across another overseas telecom with stellar performance. Turkish telecom TKC is up 60% year to date; it was up 6% on Friday alone. Turkey's economy has been a high flier and with the likely entry into the European Union, their economic prospects look appealing. Aside from investing directly into their market, buying into their top US traded telecomADR (TKC's performance is a good indicator of the economy of the rising lower and middle class) is the next best thing.

Below is a YTD chart of all 3 [CHL, VIP, TKC]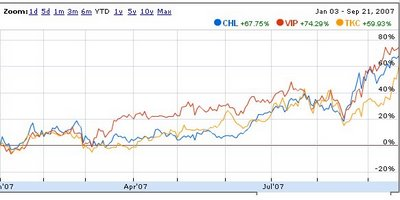 Disclosure: I have no position in TKC at the moment, but will consider in the future.