Let's take a look at Petrohawk Energy (NYSE:HK), which as of September 17, 2007 was $15.72.
Operational Summary:
It is active in the Cotton Valley trend of North Louisiana, and has nascent, but growing positions in both the Fayetteville and Woodford Shales.
Management:
As another subscriber to the "under promise and over deliver" school of management, the company perennially exceeds, and then raises forward guidance while maintaining a conservative balance sheet (LTD to TC of 43%). It takes a portfolio approach to its asset base that is usually employed by larger companies (most little guys just want to grow), and it is quick to punt higher operating cost plays which has reduced its breakeven point below almost all of its peers. The continuous transformation that it is undergoing reminds me a little of a smaller scale Newfield Exploration Company (NYSE:NFX) but with a narrower asset focus.
Recent Management Changes:
The CFO and COO have both left the company over the last three months (June and September). Usually that's a yellow card, which is then followed by a red one. The Street seems less concerned, and the guys who took over are seasoned employees and who both come from the inside. Judging from the reaction to the COO's departure last week I think these moves had been telegraphed to the Street.
Production Growth:
In 2007, 13-16% production growth is expected, and I would expect low- to mid-double-digit percentage growth next year as well (on a pro-forma basis excluding the by then divested Gulf Coast division).
Reserves:
1.1 Tcfe fully engineered by Netherland Sewell. The company estimates 3P reserves at 4.1 Tcfe.
It operates at over 75%.
It has a long reserve life (9.8 years)
Gassy (86% of reserves)
Finding Costs: Organic F&D costs of $1.65 in 2006 was near to best in class.
It has 1,300 proved locations, and 3 times that in non-proven locations.
Price Realizations:
Stout Hedge Positions: 80% of 2H07 expected gas production hedged at more than $7.25.
Narrow differentials to NYMEX.
In 2Q07 it received:
99% of the NYMEX gas price
95% of NYMEX oil
LOE / Mcfe Hard To Beat. More details in the property section below but they are alarmingly efficient operators: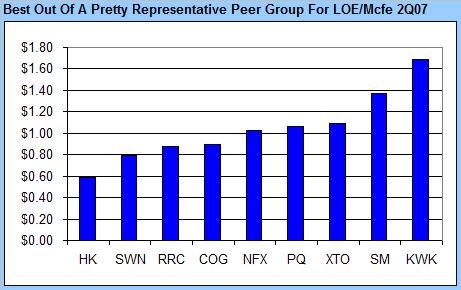 Reserve Life / Price To CF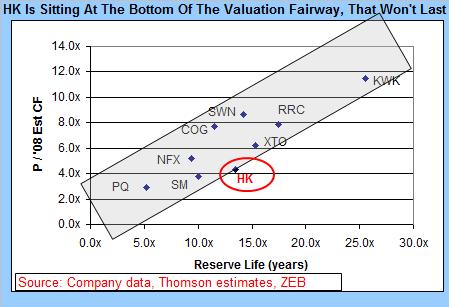 Valuation: Cheap Inexpensive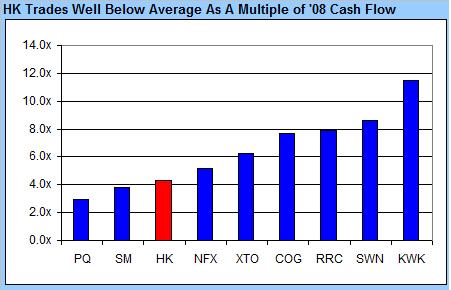 Upcoming Catalysts:
Sale of the Gulf Coast Division:
Conservatively, I'd expect a pretty decent price for it, say $900 million to $1.3 billion based on YE06 reserves of 663 Bcfe in the division and a selling price of $1.50 to $2.00 per Mcfe. Could go higher as the division has been prospect rich and there's a good 3D seismic library to accompany the property. This would be a significant boon given their 2007 non-Gulf Coast budget is $450ish million.
From a style points perspective, once again it is punting the highest cost / highest decline rate division of the company. Look for immediate improvement on LOE and in time, reserve life which should allow for a little price to cash flow multiple expansion.
The expected close is in the fourth quarter.
A Master Limited Partnership was formed to acquire select the Permian and Arkoma properties. It expects to raise $150 to $225 million upon it's offering in the fourth quarter.
Core Areas of Operations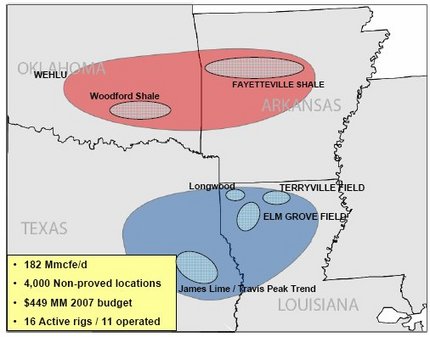 North Louisiana:
Elm Grove: This is the largest of Petrohawk's fields which spans three Louisiana parishes. As of February 2007, production stood at 94,000 Mcfepd (about 30% of total 2Q production), is which up from just 5,000 Mcfepd in 2001. The play targets Lower Cotton Valley and Hosston zones via infill drilling which has gotten down to a 20 acre spacing, and a couple of science project stage horizontal wells.
It plans to drill about 140 wells here this year and at this rate they have a 10+ year inventory (over 1,500 locations).
This is also extremely low cost stuff to operate ($0.24/Mcfepd lease operating expense)
The 20 acre infills are showing strong results:
There is an average EUR of 1.13 Bcfe for 24 20 acre wells drilled so far).
In 2007, 30 to 35 of the 140 wells planned here will be 20 acre infills.
Hosston
- Coil tubing multiple small sand fracs are working better, with more target allowing for co-mingling of Cotton Valley and Hosston production, which is more cost efficient than one large frac. Hosston sands are strung out in numerous narrow bands 2 to 15' wide over a 900 gross foot interval above the Cotton Valley, so the potential is large. It will do 100 of these recompletions ($400K apiece) in 2007, and likely accelerate the program in 2008.
6 horizontals are planned for 2007, and a second one IP'd at 4,000 Mcfepd (first was at 2,400 Mcfepd)
.
Terryville: 106 sections (34,000 net acres), lower cotton valley and gray sand zones, development drilling, field expansion and gray sand exploration. 2007 plans: $122 mm, 51 wells plus a 50 sq mi 3D. The main plain is on 40 acre spacing now and they're drilling a dozen 20 acre infills in the remainder of the year.
.
Average Well: 1 to 3 bcfe
$2.5 million /well + $0.6 mm to deepen for Gray Sand exploratory target.
2.5 mm/d initial production
There are 550 locations. Its 2004 production was negligible, but it began to ramp activity in 2006, and production increased to 17 Mmcfepd. In 2007 production is expected to be close to 40 Mmcfepd. Gray sand has seen some bigger wells, where recently 3 deeper wells (12,000 feet) had a combined IP of 15,000 Mcfepd.
It is even cheaper to operate than Elm Grove at $0.14 per Mcfepd
Arkansas:
Fayetteville Shale has 80,000 net acres which are mainly located in Van Buren Country (the western part of the play where Southwestern Energy Company (NYSE:SWN) has been drilling its better wells). 2007 plans call spending $37 mm to drill 27 wells.
$2.5-2.9 mm apiece with a 3,000' lateral.
2.0 to 2.5 Bcfe per well That's up from 1.5 to 2.5 Bcfe thoughts earlier this year.
Average 2,000 Mcfepd IP. A few recent wells, simul-fracced with IPs over 3.
There are 1,000+ locations.
There is next to nothing booked as of YE06 (0.5 Bcfe); could see additions of 40 to 509 Bcfe this year.
Oklahoma:
Woodford Shale: It is 26,000 gross acres. It was set to to drill a half dozen wells here in 2007, but I've still not seen any results from any of them. I will check further, and update.
Summary:
I like this company. As it transitions to a resource play steadier growth it afford should translate into multiple expansion towards the middle range of its peer group. It has been very effectively hedged three-quarters of expected production with natural gas floors over $7 / Mmbtu, and ceilings that will give them upside to over $12 this winter. Finally, its inclusion in the two shale plays adds an element of sustainable growth that is not usually found amongst the smaller E&Ps.