On April 3, 2012, at 2:00 p.m., the Federal Reserve Board and the Federal Open Market Committee (FOMC) released minutes of the committee meeting held on March 13, 2012. Gold fell about $35 immediately. Silver, oil, bonds and stocks and other commodities all fell. The U.S. dollar rose.
A large number of market participants were expecting QE3. Such investors were neither paying attention to the strong economic data that has been released over the last five months nor were they reading statements from the Federal Reserve.
Their hopes were dashed by hawkish minutes from the Fed. On April 4, 2012, trends from April 3rd continued in gold, silver, oil, other commodities, stocks and forex. Treasury bonds experienced a mild bounce.
The minutes were not a surprise to me and should have not been a surprise to anyone who is not stuck in the paradigm of investing based exclusively on looking in the rear view mirror.
The rear view mirror crowd as well as the gold and silver momo crowd panicked at the economic outlook put together by the Federal reserve staff as follows:
'In the economic projection prepared for the March FOMC meeting, the staff revised up its near-term forecast for real GDP growth a little. Although the recent data on aggregate spending were, on balance, about in line with the staff's expectations at the time of the previous forecast, indicators of labor market conditions and production improved somewhat more than the staff had anticipated. In addition, the decline in the unemployment rate over the past year was larger than what seemed consistent with the modest reported rate of real GDP growth. Against this backdrop, the staff reduced its estimate of the level of potential output, yielding a measure of the current output gap that was a little narrower and better aligned with the staff's estimate of labor market slack. In its March forecast, the staff's projection for real GDP growth over the medium term was somewhat higher than the one presented in January, mostly reflecting an improved outlook for economic activity abroad, a lower foreign exchange value for the dollar, and a higher projected path of equity prices. Nevertheless, the staff continued to forecast that real GDP growth would pick up only gradually in 2012 and 2013, supported by accommodative monetary policy, easing credit conditions, and improvements in consumer and business sentiment. The wide margin of slack in product and labor markets was expected to decrease gradually over the projection period, but the unemployment rate was expected to remain elevated at the end of 2013.'
The following excerpt from the FOMC minutes are worth reading:
'Private non-farm employment rose at an appreciably faster average pace in January and February than in the fourth quarter of last year, and declines in total government employment slowed in recent months. The unemployment rate decreased to 8.3% in January and stayed at that level in February. Both the rate of long-duration unemployment and the share of workers employed part time for economic reasons continued to be high. Initial claims for unemployment insurance trended lower over the inter-meeting period and were at a level consistent with further moderate job gains.

Manufacturing production increased considerably in January, and the rate of manufacturing capacity utilization stepped up. Factory output was boosted by a sizable expansion in the production of motor vehicles, but there also were solid and widespread gains in other industries. In February, motor vehicle assemblies remained near the strong pace recorded in January; they were scheduled to edge up, on net, through the second quarter. Broader indicators of manufacturing activity, such as the diffusion indexes of new orders from the national and regional manufacturing surveys, were at levels suggesting moderate increases in factory production in the coming months.'
Based on the large number of emails I receive, the momo crowd would dismiss the Fed statement by claiming that inflation is heating up and therefore gold and silver will go to the moon. The momo crowd may want to pay particular attention to the following part of the Fed statement:
'Overall U.S. consumer prices, as measured by the PCE price index, increased at a modest rate in December and January. Consumer energy prices rose in January after decreasing markedly in December, and survey data indicated that gasoline prices moved up considerably in February and early March. Meanwhile, increases in consumer food prices slowed in recent months. Consumer prices excluding food and energy also rose modestly in December and January. Near-term inflation expectations from the Thomson Reuters/University of Michigan Surveys of Consumers were unchanged in February, and longer-term inflation expectations in the survey remained in their recent range.'
Imagine how much money investors could have made by going long the U.S. stock market, going long the U.S. dollar, short selling treasury bonds, short selling commodities and precious metals in October of 2011.
Readers of Seeking Alpha were given the following specific recommendations in the article titled "Most Investors Miss The Point: Operation Twist Is Brilliant":
With a three year horizon, there are several ways to make money:
Short sell U.S. Treasuries.
The best way is to short sell futures. However, those not inclined to short sell futures can consider buying inverse ETFs such as TBF and TBT. Another option is to short sell ETFs such as TLT.
The inverse bond ETF has a potential to show 50% to 70% gains over the next three to five years.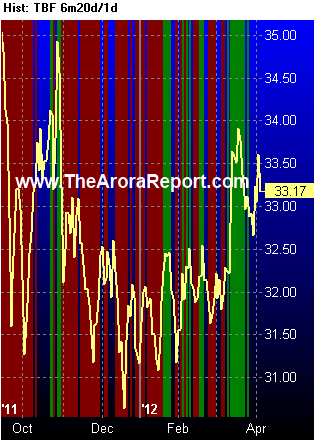 Buy U.S. equities.
Another easy way is to buy ETFs such as SPDR S&P 500 (SPY), ProShares Ultra S&P 500 ETF (SSO), PowerShares QQQ Trust (QQQ) and ProShares Ultra QQQ ETF (QLD). A better way is to buy stocks or sector ETFs that are quantitatively inexpensive.
The chart of Nasdaq 100 ETF speaks for itself about the gains.
Short sell commodities.
The best way is to directly short sell copper, nickel, zinc and coal. An option is to use inverse ETFs.
The charts of Market Vectors Coal ETF (KOL) speaks for itself about the gains.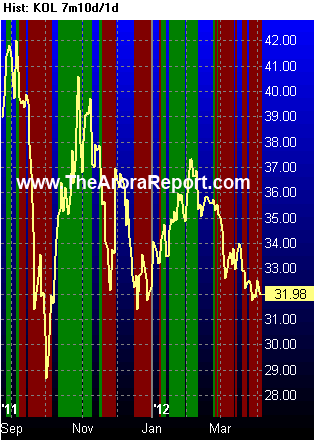 Short sell gold and silver.
One way is to buy inverse ETFs such as DZZ, GLL and ZSL. The other option is to short sell GLD and SLV.
The chart of gold ETF (GLD) speaks for itself about the gains.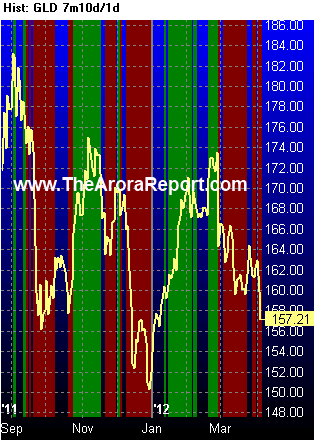 Forex.
My various writings since August 2011 have been predicting a stronger dollar. We have been short the yen and euro.
The chart of the ETF representing dollar yen (FXY) speaks for itself. I have called this the trade of the decade and more gains are yet to come.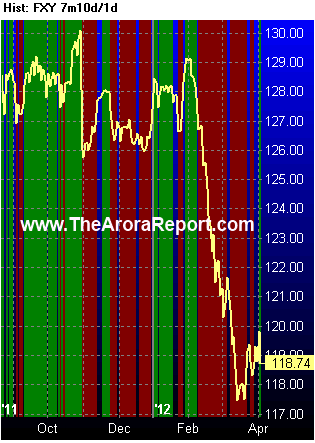 The latecomers could have read Generate wealth in 2012 and beyond on January 4, 2012, and generated substantial profits by identifying new investment cycles early.
It is still not too late. The stock market is overbought and a shallow pullback is likely. Such a pullback should be bought.
Gold, silver, oil and bonds are short term oversold. Any bounces should be sold and selectively shorted.
Certainly investors who did not jump on board the new macro cycle that we identified with conviction in October 2011 missed large gains to date, but more gains are still ahead if investments are made that are aligned with the new global economic macro cycle.
Markets are dynamic and data information changes. Astute investors are well advised to not get fixated on one point of view but be willing to change as new data comes in. It is easy to fall into the trap of continuing to invest based on looking in the rear view mirror. In my 30 years in the markets, the best way I have found to avoid this trap is to use adaptive algorithms, i.e., algorithms that change automatically with market conditions. It takes some work, but any investor can accomplish the same thing as the adaptive algorithms by keeping track of leading economic indicators and money flows in a spread sheet.
Disclosure: I am short GLD.