Like most investors, I didn't fare particularly well in 2011 as my portfolio was spent trying to make sense of all of the red arrows that saturated my investment statements. But I could not help to notice that the trouble started exactly at this time last year - one month prior to the famed "sell in May" mantra. This year I am actively trying to avoid a similar performance by being a bit more proactive in assessing the movement of money - or more specifically focusing on sector performances. Clearly, this first week of trading in the second quarter does not inspire the warm and fuzzy feeling that dominated the first quarter.
So far, all of the major equities have suffered consecutive losses, so it lends one to ask, is the bull market over? Well that question is not as easily answered as it sounds. Clearly the Fed's decision or at least its stance toward QE3 did little to inspire investor confidence, but as an astute investor, there are multiple ways to play this disappointment. Looking at the graph below, you can see where investors are putting their money. Clearly the technology sector as well as financials have been the dominant groups so far on the year. However, as noted previously, in 2011 what contributed to the poor performance of my portfolio was the fact that I ignored certain money movement trends.
(Click to enlarge)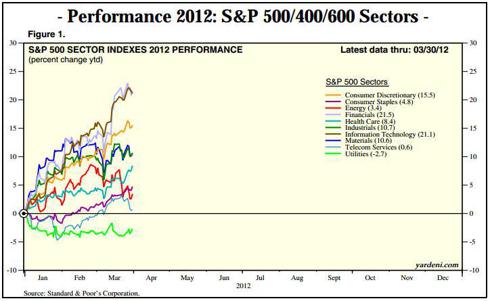 So the trend that I'm going to start focusing on this quarter involves pinpointing sector rotations. Basically, if I realize that technology and financials are the robust sectors in play at the moment, any slight dip in market sentiment can cause investors to secure profits in places where they might have done pretty well. Clearly there's nothing wrong with being content. Then at some point that capital has to start burning a hole in investor pockets, at which point they will be forced to look for a place to put it. The likely places would be where they now think presents the best safety net while presenting relatively good levels of value.
In this series of articles, we are going to look at each sector and see how we can mitigate some losses while discovering some safe plays that present good value. Let's start with the two largest performance gainers YTD. In the Financials sector its 21.5% gains suggest that the group stands to lose the most in the event of a market pullback. Depending on how you look at it, this may or may not be a surprise at all. There is no way to spin it - 21.5% is nothing short of remarkable when compared to how the sector ended 2011 down 18.4%. Leading the way is Bank of America (BAC) which continues to also be the leader of all of the Dow components by having gained over 70% on the year so far. It ended last year with analysts questioning whether or not it can survive. Now here we are only three months into the New Year and investors are once again in love with ATM charges. It is interesting to see the change of perspective as it is preparing for its Q1 earnings results due to be released April 19.
As evident by the chart above there has been no bigger turnaround story on the market if not the banks. The question investors want to know is how long will this trend continue, not only for Bank of America but of the entire sector? More importantly, is it now time to sell?
In 2011, the story was much different. Investors who were heavily exposed to financial stocks were stunned by the level of disappointment they had to suffer through. Experiencing a letdown is one thing if you are a regular investor like me. But it was also a surprise to even the brightest minds on Wall Street as bank executives simply were unable to live up to expectations. Not only were financials the poorest performers, it did not help that they were also tied to the mortgage crisis. But clearly as the first quarter of 2012 has now passed, all of these concerns appear to now be in past as well.
That said, "a prudent approach" should always be an important aspect of every investment strategy. For this reason, I think it might be time to lock in gains on three other banks that have all gained 40% or higher YTD in JPMorgan (JPM), as well as Citigroup (C) and Goldman Sachs (GS). For Goldman Sachs, what concerns me the most is what I consider a pretty expensive P/E of 26 - especially when compared to JPMorgan which trades at a multiple of 10. From that standpoint, I think investors can find much better value while not risking gains that have already exceeded 40%. Having said that, I am inclined to offer the bank a bit of credit for the manner in which it has cleaned up its balance sheet - something that very few analysts thought it would be able to do. And the same thing can be said about JPMorgan which is now trading $44.
But as I've said, it is still somewhat cheap while trading at a P/E of 10. But it's sitting only percentage points away from its 52-week high. The concern is that any sudden market pullback can wipe away a decent YTD gain. Of all of the banks to consider selling, the hardest one for me unload would be Wells Fargo (WFC) because I have become absolutely enamored with its fundamentals as well as its management team. But then again, there is a saying that goes "a rising tide lifts all boats" and I think the opposite also holds true. So I don't see a scenario where I can realistically expect financials to suffer some near-term hardship and not expect Wells to feel some impact.
The most unappealing thing I can find regarding Wells Fargo is purely technical and it's the fact that it is sitting at its 52-week high, which is better than what I can say for one of its rivals in Citigroup, which can't seem to really get its act together in my opinion by reporting a pretty putrid Q4 and a 11% decline in profits. Its high exposure to European debt has now become a thorn in its side. While the company is working to repair its brand, its main issue continues to be with what is perceived as a lack of strategic direction.
Summary
As great as it has been to see that the financials have in fact regained some of their footing from the disappointment in 2011, investors should be mindful that the idea of sector rotations is indeed real. In the first quarter, the financials obviously dominated the market, but my suspicions tell me that a 21.5% gain for the sector is unsustainable and money should begin to rotate to some of the weaker performers as investors look to secure profits and/or look for better value. In the next article we will look at the financials sector to see where some buy/sell opportunities may be hiding.
Disclosure: I am long BAC.