International Business Machines Corporation (IBM) operates in the technology sector, a pioneer in the creation and development of computers and hardware, and is on the way for one more decade of innovation. This is a company that since 1926 has been at the forefront of technology, maintains a strategy of investment in innovation, is the largest maker of patents in the world, and has a business model that relies on the creation of new business and then carries out a partial sale of that business.
In terms of residual value, it is practically zero, which means that in case of insolvency and by my model, the shareholder will have an almost total loss of invested capital in the case of bankruptcy. However, this is a company with a solid business with steady income from licensing of software and hardware maintenance services. On the other hand, due to the sale of hardware and more recently the cloud system, it invests a proportion of sales to allow them to foster growth in times of economic expansion.
I also note that during the sub-prime crisis it has always maintained a profit that even increased year after year, accompanied by a continued improvement in operating margins from 13.68% in 2007 to 18.97% in 2011.
We must consider two scenarios, a worst-case scenario in which the company will have the same profits recorded in 2007, that were the lowest in five years, and was a profit of $10,418 million (equivalent to a PE of 23.02, and one where the world economy continues to recover and we'll see the company profits equal or higher than in 2011 with $15,355 million (equivalent to a 15.62 PE).
In short, buying IBM can be considered a good investment for life -- "Buy and Hold Until You Die" -- which makes the timing of the buy almost irrelevant. However, for those who do not buy as Warren Buffett does, then it's prudent to wait for a market correction. Buying at $160 represents a PE of 12 with a dividend yield of 2.13%, in a technology company with good margins, is innovative, and has growing profits.
IBM US

Total Debt

96.198

Total Assets

116.433

Debt Ratio

83%

Residual Value

584

Actual

QT

Mkt Cap

Pr

Variation

MKT CAP

1.159

239.819

206,98

Residual VALUE

1.159

584

0,50

-100%

Better

Worst

Net Income

15.355

10.418

Mkt Cap

239.819

239.819

PER

15,62

23,02
Click to enlarge.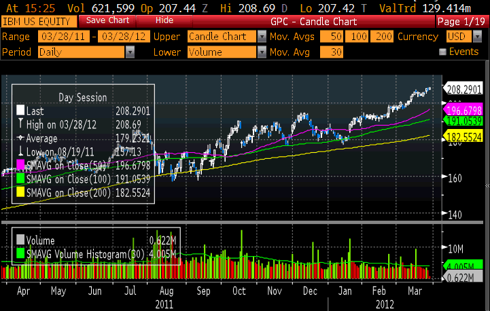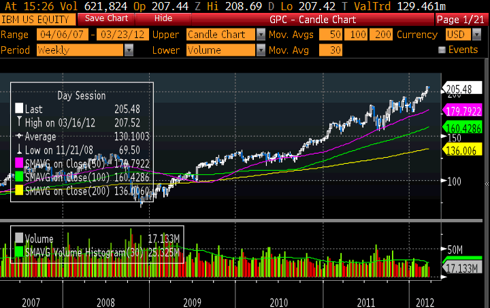 Disclosure: I have no positions in any stocks mentioned, and no plans to initiate any positions within the next 72 hours.