Although I had written a report today saying I wasn't sure what was going on, it suddenly hit me. China Medical Technologies (CMEDY.PK) is taking itself private via a 3rd party! They are using AER Advisors to do it. I wish I was aware enough to have figured this out earlier when I only covered my short position at around $1.20 a share.
As I showed in my previous article, AER Advisors has continually accumulated shares every month.
Here, AER filed a 13G/A on 1/27/12 that it holds 1,948,006
shares or 6.04% of the shares outstanding.
Here, AER filed a 13G/A on 1/30/12 that it holds 2,026,506 shares or 6.28% of the shares outstanding.
Here, AER filed a 13G/A on 2/02/12 that it holds 3,889,177 shares or 12.05% of the shares outstanding.
Here, AER filed a 13G/A on 2/21/12 that it holds 4,889,177 shares or 15.15% of the shares outstanding.
Here, AER filed a 13G/A on 3/20/12 that it holds 6,040,886 shares or 18.72% of the shares outstanding
Now I have to add another filing for today: Here, AER filed a 13G/A on 4/5/12 that it holds 6,439,872 shares or 19.95% of the shares outstanding.
They had started accumulating shares right about when China Medical had started going "dark". What this pattern shows is that AER Advisors isn't just slowly accumulating shares, but they are gobbling them up at a rate of over 250,000 shares a week. With average volume of only about 560,000 a day, the share price of CMEDY.PK has no choice but to go up from the avalanche of buying from AER. It doesn't have a large enough market cap to take that kind of consistent buying volume.
Looking at CMEDY.PK's chart in the last month, there hasn't been too much volatility. It's a consistent upward climb. If you want to buy CMEDY.PK and are cautious, maybe hold on until it looks like AER Advisors is slowing down in its buying volume. I just bought some shares today, and will probably lighten up a little once CMEDY.PK reaches $5 a share.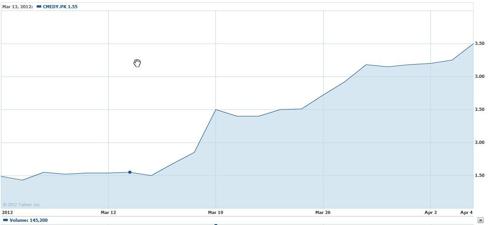 When will AER Advisors end its CMEDY buying spree? With 6.4 million shares owned, that's about $18 million that they've spent so far on CMEDY.PK for one of their clients. China Medical had about $200 million cash on its last reported balance sheet, so I'd say they have $50 million or so more in share buybacks to go.
Is what AER Advisors and China Medical doing legal? I think it's likely that AER Advisors has already looked into this and is within regulatory lines. But if it is illegal, I don't think discovering what's going on and taking advantage of it would be.
Disclosure: I am long CMEDY.PK.