Forbes just published an article ranking the best CEOs of 2011. It's a bit funny that over the past a few days I wrote three articles about two companies with CEOs who are on the list, Amazon (AMZN) and Chipotle (NYSE:CMG).
In my opinion, the "best CEOs" are more often the luckiest CEOs: Their companies performed extraordinarily well not because of what they did right, but because of macroeconomic conditions and industrial trends (or even worse, the stock market's irrational exuberance). For example, in early 2011 Netflix (NFLX) CEO Reed Hastings was named the best CEO of 2010, all because Netflix was an outrageously overvalued stock in 2010. In 2011, Netflix lost 80% of its stock market value. In fact, there is a pretty good chance that the CEOs can make this list exactly because their companies are already (over)recognized by the stock market. They are, in other words, likely overvalued and can be decent short selling targets. This prompted me to write a series analyzing the companies whose CEOs are on Forbes' Best CEO list. Here are the names:
Amazon
Salesforce.com (CRM)
Dollar Tree (DLTR)
Cerner Alexion Pharma (ALXN)
Chipotle Mexican Grill
AutoZone (AZO)
CF Industries Holdings (CF)
Fastenal (FAST)
O'Reilly Automotive (ORLY)
In this article, I'm going to examine the valuation of AutoZone and decide whether or not it is a worthwhile investment.
AutoZone operates 4,534 stores in the U.S. and 279 in Mexico. Over the past few years, it is one of the best performing stocks in the market.
Click to enlarge.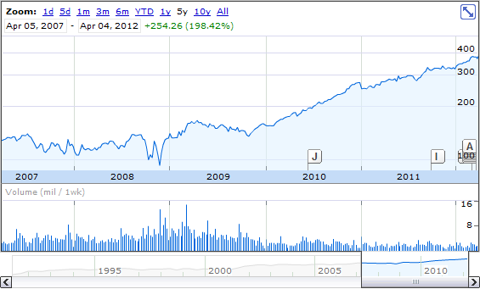 AutoZone has $117 million cash and $3.46 billion debt. The debt is not a concern given its EBITDA of $1.76 billion. It pays no dividends. Its revenue, operating income, and net income from 2007 to 2011 are listed in the following table. The growth rate indicates that AutoZone's pricing/earnings ratio of 18 is a little pricey but not extremely expensive.
Revenue

OP Income

Net Income

OCF

FCF

2007

6,170

1,055

596

845

621

2008

6,523

6%

1,124

7%

642

8%

921

9%

678

9%

2009

6,817

5%

1,176

5%

657

2%

924

0%

652

-4%

2010

7,363

8%

1,319

12%

738

12%

1,196

29%

881

35%

2011

8,073

10%

1,495

13%

849

15%

1,292

8%

970

10%

But that's not the whole story. AutoZone's same-store sales growth and the number of stores are listed in the following table:
Same-Store Sales Growth

Number of Stores

2007

0.10%

4,056

2008

0.40%

4,240

5%

2009

4.40%

4,417

4%

2010

5.40%

4,627

5%

2011

6.30%

4,813

4%
AutoZone has been expanding at about 5% a year for quite some time. Prior to late 2006, its stock performance has been very mediocre. What really made the difference was its same-store sales growth since 2009. It increased from virtually zero to ~5% almost overnight. Why? Because AutoZone is a macroeconomic-driven business. AutoZone's store traffic has benefited enormously from the economic downturn; in tough conditions, people do not buy new cars. Instead, they keep used cars longer. Used cars require more maintenance; hence AutoZone's business gets better. By the end of 2011,
the average vehicle age reached 10.8 years
, the highest number on record.
Based on the jump in new vehicle sales this year, the economy is slowly but surely recovering. For that reason, I do not see AutoZone's current growth rate to continue for much longer. AutoZone's insiders seem to agree with my judgment. Over the past 12 months, they sold a net of 10,510,315 shares. Additionally, by having more stores than pre-crisis, AutoZone's new stores are bound to be in more inferior locations and will be less profitable than before 2007.
Depending on the speed of recovery, if we assume the same-store growth by the end of 2013 will dip to zero, how much is AutoZone worth? Its growth would be around 5%, assuming it continues to open stores at that rate. Its net income can be around $1 billion at the time, and if we give it an 8x P/E ratio, AutoZone is an $8 billion stock. That is 46% lower than the current price. If we use a 10x P/E ratio, it is 33% lower. So it seems the "best CEO" jinx is likely to happen to AutoZone in a year or two.
Disclosure: I have no positions in any stocks mentioned, and no plans to initiate any positions within the next 72 hours.