China's PMI readings come in two flavors, and neither appears truly representative of the truth. The latest official number of 53.1 is the fourth consecutive growth reading, while the HSBC number of 48.3 is the fifth consecutive contraction, and where the official number covers large companies, the HSBC survey focus on smaller enterprises.
The cynical view is that it's easier for the government to "control" survey responses by state-owned companies. Whatever the interpretation, the Shanghai Stock Exchange Composite Index, a capitalization-weighted index that tracks the daily price performance of all A-shares and B-shares listed on the Shanghai Stock Exchange, continues its trip south, as shown by the chart below (courtesy of Bloomberg), dropping 24% over the last 12 months, as compared with an increase of almost 5% for the S&P 500 (SPY).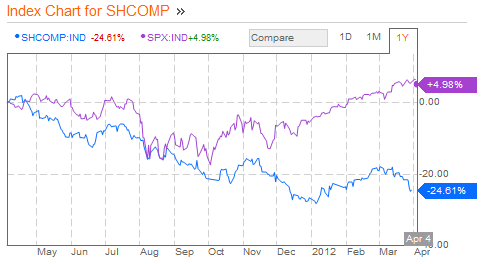 The debate over whether a soft or hard landing will be the end result will continue to dominate the conversation, although there's no clear definition of how to measure the landing itself. I understand that a stock market doesn't tell the full story, but what is apparent is that the positive comments regarding China's economy are not being matched by capital flows. Even Timothy Geithner stated yesterday that China's economy is not a problem, according to Reuters, and his explanation of the slowdown was that "they did that by design because it was growing too fast." I would add that they must have a magic knob that is turned at will to control economic output.
The view is a bit different, according to Caixin, and the deflationary real estate market is becoming a concern, with Qi Ji, vice minister of housing and urban-rural development, stating that "raising individual' incomes must be part of handling the real estate bubble."
Both top leaders and scholars have stressed the importance of raising people's incomes and strengthening consumer power as a way to shift away from the current growth model driven by investment. Little material progress has been seen in that direction.
So much for the magic knob, and the noise indicates a morass of incoherent ideas. Higher incomes are a problem for industry, while the much promised domestic consumption continues to be unfulfilled, because without higher incomes, consumption cannot evolve - a classic "Catch-22." In addition, the drop in real estate prices is adding fuel to public discontentment.
Thus, "the China Securities Regulatory Commission announced on Tuesday that international fund managers would be allowed to invest a combined total of $80bn in China's onshore capital markets," according to the Financial Times.
Beijing also increased the total amount of renminbi that foreign investors can raise in Hong Kong for investment back on the mainland, from Rmb20bn ($3.2bn) to Rmb70bn. Together the moves will allow global financial institutions to play a more active role in China's largely closed domestic equity markets and breathe life into a market that was one of the world's worst performing last year.
Wonderful, but why now? Many reasons will be given, such as the full convertibility and internationalization of the renminbi, but the completion of that process is six years behind schedule. So much for promises, because they were too busy milking the global economic system. China is not known for its openness, and any action must be questioned in earnest, because every road in China leads to one destination: Maintaining the political status quo.
But China's woes go well beyond the economic slowdown, and the government is facing increasing popular opposition to the regime. So Premier Wen had a bright idea: Let's blame the big banks. MarketWach reported:
Chinese Premier Wen Jiabao criticized large state-controlled banks' dominance of the country's financial sector, according to remarks to a government radio station Tuesday. Wen said the top lenders were making profits "too easily" and enjoyed a "monopoly" that must be dismantled, according to reports of Wen's comments to China National Radio.
The problem here is that Premier Wen, his cohorts, and the "big banks" are all related and part of the ruling elite, and the choice of radio over television was masterful, because radio is more pervasive throughout the country side. To further highlight China's sociopolitical conundrum, the Financial Times reported that "China tightens grip on lawyers," reminiscent of official mandates only found in banana republics.
China has ordered its lawyers to swear their allegiance to the Communist party, giving it one more tool to tighten its grip on legal activists. Since online calls early last year for an Arab Spring-style revolution, Beijing has detained scores of lawyers and activists in what human rights campaigners say has been China's most sustained period of repression in more than a decade.

They will be required to say: "We promise to faithfully carry out the sacred mission of legal work under socialism with Chinese characteristics, to be loyal to the motherland, to be loyal to the people, (and) to support the leadership of the Chinese Communist party."
As a side note, the words "sacred" and "communist" in the same sentence look odd. In addition, old tactics have not vanished, even in view of a more economically advanced society.
A handful of lawyers have tried to push the envelope, taking on cases from police abuse to forced demolitions. Some of those who have pushed aggressively have had their licenses revoked or have simply disappeared.
The process of China's transformation is in motion, is probably more advanced than any outsider truly knows, and I am not referring to the country's economic ascent. Then again, one can take a step back and in simple terms try to think of similar regimes with long-term success. U.S.S.R.? North Korea? Cuba? Why would China be any different?
Trading the iShares Trust FTSE China 25 Index Fund (FXI), or any other China ETF, on a short-term basis is a very different proposition than investing in China's long-term economic future, and "reform" will have consequences that run counter to the objectives of the Chinese government.
Disclosure: I have no positions in any stocks mentioned, and no plans to initiate any positions within the next 72 hours.