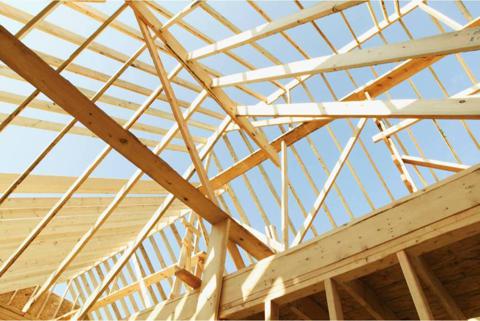 Perhaps there is no sector more at the mercy of the vicissitudes of macroeconomic trends than housing and homebuilding. After all, the recent financial crisis had an awful lot to do with mortgage-backed securities and home construction. So it's little surprise that two ETFs that track the housing sector, the iShares Dow Jones U.S. Home Construction Index Fund (ITB) and the SPDR S&P Homebuilders ETF (XHB) were down markedly on recent Construction Spending data.
The latest data from homebuilding in February was so far off of analysts' forecasts that it's anybody's guess whether this is a temporary contraction or a paradigm shift in the sector. Rather than the 0.7% increase in Construction spending that many economists were predicting, Construction Spending instead registered a full 1.1% contraction.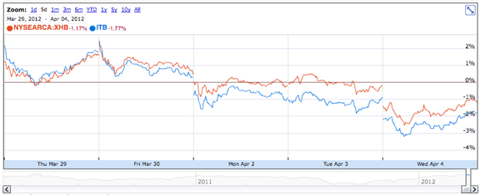 ITB and XHB were both sharply down on Monday, April 2nd thanks to lower than expected Construction spending.
It appears that there were enough people worried about the release of this macroeconomic data that there was a notable increase of XHB put option buyers last Thursday. XHB, usually highly correlated to the S&P 500, was down 0.75% even as the S&P 500 gained 0.73%.
So, are Americans really ready to buy more new homes, and are homebuilders there to deliver on increased demand? Or are Americans simply not thinking the same way they used to about buying and owning versus renting? The data from February suggests that it may be the latter. Nevertheless, recent data suggest buying vs renting is now the cheaper course. Yet, other mortgage application data suggest it's never been more difficult for first time home buyers to qualify for a mortgage. In fact, the majority of borrowers with credit scores in excess of 730 were rejected for new mortgages.
Although ITB and XHB both track the housing sector, they go about it in two very different ways. ITB has more direct exposure to the homebuilders themselves. 6 of its top 10 holdings are homebuilders, including the top 5, and they account for nearly half the fund's assets, at 48.14%. These homebuilders include (in order of allocation) Lennar Corporation (10.19%), DR Horton INC (9.35%), Toll Brothers Inc (8.30%), NVR Inc (8.30%), Pultegroup Inc (7.92%), and MDC Holdings Inc (4.08%). The fund also has some indirect exposure to homebuilding, notably with Home Depot (4.46%), Lowe's (4.05%), Sherwin Williams (3.79%) and Masco Corporation (3.66%).
On the other hand, XHB is more indirectly exposed to homebuilding. Rather than invest in homebuilders, it is more concentrated in companies that stand to benefit from homebuilding. Of its top 10 holdings, just one is a homebuilder (Lennar Corporation, 8th with a 3.58% allocation). It should be noted, though, that XHB is far less concentrated than ITB. Its top 22 holdings (of 40 total) only vary from 3- 4%.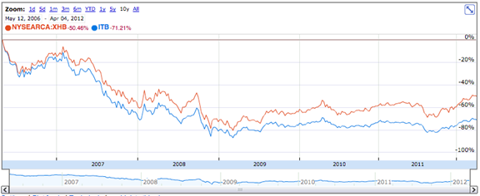 Both ITB and XHB have yet to recover to their pre-housing-crash levels.
Disclosure: I have no positions in any stocks mentioned, and no plans to initiate any positions within the next 72 hours.