According to QQ Tech Channel, Youku (YOKU) currently accounts for 77% of video ecommerce market share on Taobao.com. The rest is split between rival Tudou (TUDO) and Renren's (RENN) 56.com.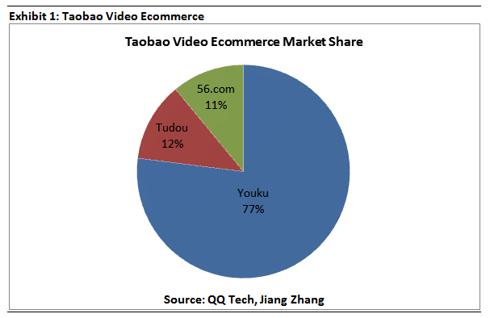 After the merger of Youku and Tudou is approved in Q3, Youku will have close to 90% video ecommerce market share on Taobao.
Ecommerce is still at its infancy in China, where internet penetration is still low and online credit card usage is not as common as it is in North America. In addition, lack of certainty on product quality is holding many consumers back from online shopping because the images posted by the merchants can be deceiving.
However, video ecommerce has several advantages over traditional ecommerce, notably consumers can:
View a product from multiple angles via motion videos rather than still images
Witness the product in action through video tutorials
Have greater certainty on the product's suitability
These advantages result in superior shopping experience for the consumers.
Exhibit 2: Taobao Video Ecommerce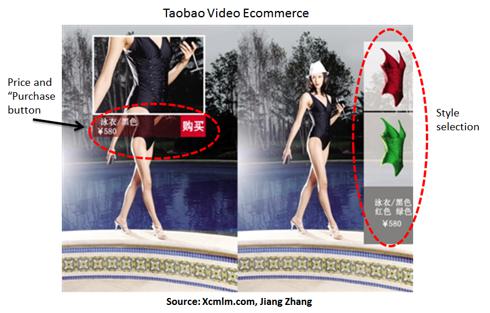 Youku and Taobao have been developing the online video ecommerce platform since 2009 when both companies formed a strategic partnership with the goal of bringing greater transparency and certainty to online shoppers. In my view, video ecommerce could be a critical catalyst for both companies in that Taobao benefits from delivering superior consumer experience to online shoppers and Youku can capitalizes on the ecommerce user traffic to attract advertising revenue. For example, an apparel retailer can play a short advertisement before showing the product video to the consumers.
Currently, Taobao's online ecommerce focuses on the apparel segment in which consumers can witness the apparel presented by live models. It is likely that the platform will expand to other fast growing segments such as 3C (Computer, communication and consumer electronics) and baby products, in my view.
The enhanced ecommerce platform could pose a threat to rivals 360Buy (not listed) and Dangdang (DANG) unless they introduce their own proprietary video ecommerce platform to deliver an improved shopping experience to their users.
Disclosure: I have no positions in any stocks mentioned, and no plans to initiate any positions within the next 72 hours.