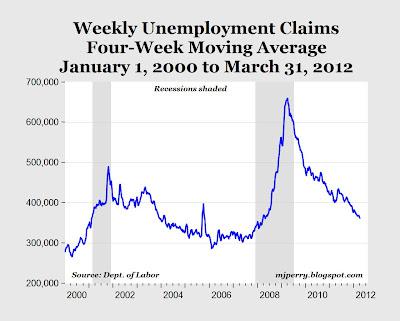 Initial jobless claims (seasonally adjusted) fell to 357,000 for the week ending March 31, which was the lowest number since mid-April 2008, almost four years ago, according to Thursday's Labor Department report. The four-week moving average of weekly claims, which smooths out weekly volatility, fell to 361,750 - also falling to the lowest level since April 2008.
The ongoing declines in jobless claims suggest that the labor market is gradually stabilizing and improving. If the declines in claims continue at the current pace, they'll reach pre-recession December 2007 levels sometime this summer.
Further evidence of an improving labor market is provided by the ongoing gains in the weekly ASA Staffing Index, which measures hiring activity for temporary, contract and freelance staffing (see chart below, 2012 is the orange line).