An article posted here yesterday from Bespoke Investment Group noted the low expectations for S&P 500 earnings growth in Q3, but also correctly pointed out that expectations going into earnings season have a history of being low-balled and may well prove conservative in the end. However things play out for the index as a whole, the earnings picture at the sector level is quite varied, and some expectations may surprise you.
The graph below shows the expected earnings growth for each of the nine Select Sector SPDRs, both as an annual percentage rate as well as each sector's dollar contribution to overall index earnings growth, to help you visualize the relative magnitude of each. We calculated these figures using consensus EPS estimates for each index constituent. Overall, S&P 500 earnings are expected to increase by about $8.1 billion, or 4.1%, in Q3 versus the same quarter last year.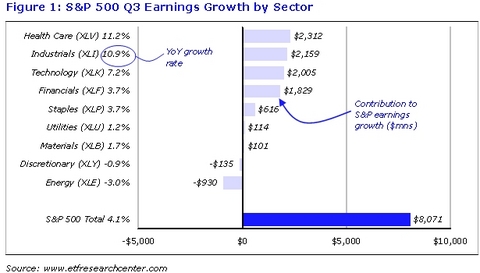 Health Care (NYSEARCA:XLV) and Industrials (NYSEARCA:XLI)—two totally unrelated sectors if there ever were any—are the only two expected to see double-digit earnings growth in Q3, and then just barely. Health Care isn't benefiting so much from robust fundamentals as it is from easy comparisons. However for Industrials there's a perfect storm (in a good way): this export-oriented sector benefits both from the weak USD and robust global economic growth, plus the fact that here in the U.S. capital spending is taking the reigns of economic growth from consumers. In fact, the double-digit earnings growth for XLI is expected to continue into 2008.
Tech's (NYSEARCA:XLK) growth of about 7%, while higher than the S&P 500 overall this quarter, nonetheless seems lackluster for a sector trading at nearly 22x earnings this year. But our take on Financials (NYSEARCA:XLF) is more optimistic. Yes, yes, turmoil in the credit markets may crimp results but earnings growth is still expected to be roughly in line with that of the overall S&P 500 (we'd venture that it will actually end up higher—around 8% or so—when all is said and done) but regardless the beat-up sector is trading at less than 12x earnings this year.
On the opposite end of things, the only two sectors expected to subtract from S&P earnings growth in Q3 are Consumer Discretionary (NYSEARCA:XLY) and Energy (NYSEARCA:XLE). Consumers aren't actually that bad of shape per se; it's the homebuilders that are the culprit for the poor showing in the Discretionary sector. Not that any one is pointing fingers. Speaking of which, with oil companies' profits likely to decline slightly despite record-high crude prices, maybe we'll be spared the usual finger-pointing from the luminaries in Congress charging price gouging and such.