Next week the economic calendar is light. Highlighting the calendar are inflation and GDP reports out of China in addition to fixed asset investment and industrial production. Reports being released in the US are the beige book, PPI, trade balance, unemployment claims, core CPI, and consumer sentiment. Bernanke is giving a few speeches this week that will be scrutinized for hints of additional easing.
GDP in China has slowed in recent quarters. Exports to Europe declined and production slowed. Should GDP slow more than expected markets could react negatively; GDP will likely continue to slow as Europe heads into recession and the effects of tighter monetary policy reduce activity.
Inflation is likely to continue to slow as demand wanes and production slows. The rate of inflation is below the 3-month simple moving average and 6-month simple moving average and both continue to decline. Should inflation continue to slow, markets could react positively as scope for looser monetary policy increases.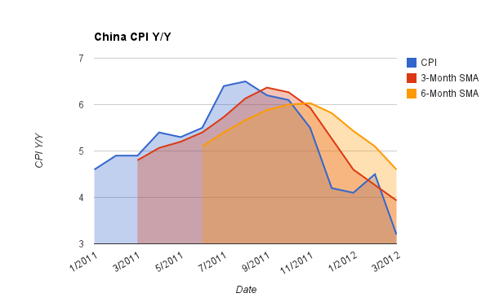 Consumer sentiment is above the rising 3-month and 6-month simple moving average; sentiment is expected to continue to rise in coming quarters. Although, at some point consumer sentiment will turn down.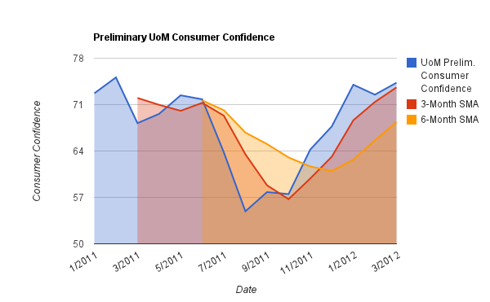 Unemployment claims have been in a range the past few weeks. Claims are above the 3 & 6-week simple moving averages.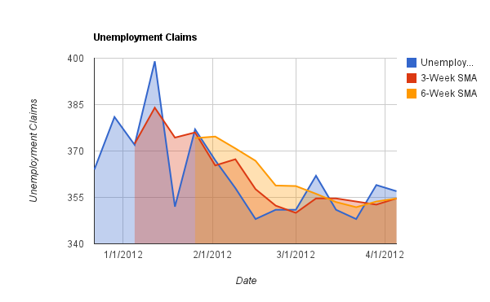 Talbots (TLB) the retailer reports this week. Investors would like to see Talbots convert over $250 million in quarterly revenue, at least the past 4 quarters, into net income. In other words, they'll be looking for management to cut operating expenses as a percentage of net sales.
Alcoa (AA) reports on Tuesday to start earnings season. The firm has reported a profit margin of less than five percent the last two quarters. However, Alcoa has been able to increase its cash position the past three quarters. A beat by Alcoa could lift markets, on the other hand a miss could weigh on shares.
Thursday Google (GOOG) reports earnings. Google's report will impact the Nasdaq and the broader market. In recent quarters the profit margin has declined; revenue increased at least the last three quarters. In addition, the enterprise has been using cash in the twelve trailing months. Google has been trying to diversify away from search ad revenue.
JPMorgan Chase (JPM) reports Friday, trading revenue is expected to have increased in the quarter being reported. The report will be a market moving event and could be a catalyst for bulls. The profit margin at the bank has decreased in recent quarters, assets have grown more than liabilities and the firm generated enough operating cash flow to cover investing and financing activities in the recent quarter reported. The firm has generated enough cash flow from operations to cover investing and financing in just one of the previous four quarters.
Disclosure: I have no positions in any stocks mentioned, and no plans to initiate any positions within the next 72 hours.