Shares of film maker DreamWorks Animation (DWA) are hovering just above an all-time low. However, there are three reasons why investors should give DWA a second look.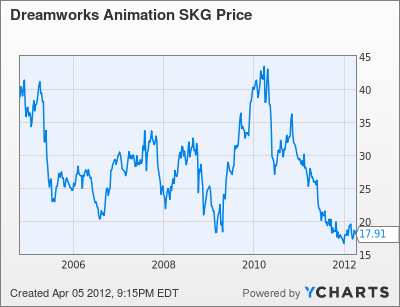 Short Interest
Short interest in DWA currently stands at 18.8 million shares or just over 28% of the outstanding float. With the stock being this heavily shorted, the potential exists for a short squeeze on any good news.
China Partnership
In February, DWA announced a partnership with three Chinese companies to form Oriental DreamWorks. DWA will have a 45% stake in the join venture. While exiting, Oriental DreamWorks will be a long-term story for DWA. Oriental DreamWork is not expected to release a movie until 2016. However, the potential for this deal to be a gamechanger for DWA is significant.
Options Activity
Option Monster reported on the high level of bullish options activity recently; 7,500 September 20 calls were purchased for $1 and at the same time, 7,500 September 15 puts were sold for $0.65. The large block trades likely represent institutional money. Institutional money is usually smarter, thus worth following. In summary, the recent options activity points to more upside ahead for DWA.
Conclusion
While DWA has not been a good stock to own in the past, there are some factors that point to a brighter future for shares of DWA.
Disclosure: I have no positions in any stocks mentioned, and no plans to initiate any positions within the next 72 hours.