Williamette Valley Vineyards, Inc. (WVVI) produces and sells premium, super premium, and ultra premium variety wines. The prices range from $7-$100+ dollars per 750ml bottle. The company is headquartered in Turner Oregon, where the company owned vineyard resides on 110 acres of land. The company controls 791 acres of vineyard to procure its grapes.
Since I wrote my original article Williamette Valley Vineyards, Inc. is up 4.29%: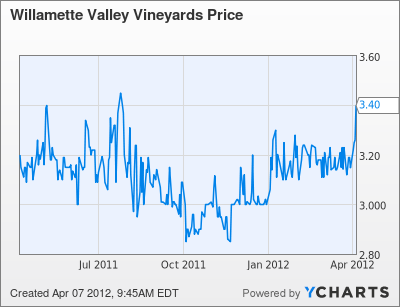 The company originally distributed its products through its own distributor Bacchus Fine Wines, in August 2011, Williamette Valley Vineyards outsourced its distribution to Young's Market Company, LLC. Bacchus Fine Wines will focus on the promotion of the company's wine portfolio. Williamette Valley Vineyards cited increased regulatory costs resulting from distributing alcohol related products.
The Company's Oregon distribution arm of Bacchus Distribution is in the process of winding down with the eventual elimination of Bacchus Distribution as a means of distribution of wine in the Oregon market. The decision was made by Management and the Board of Directors to utilize Young's to distribute the produced wine in the market due to the increasingly higher regulatory and overhead costs of maintaining Bacchus as an operating unit. This decision will increase the Company's gross margin as we will no longer sell the low margin purchased wine products as well as reduce our operating expenditure by reducing staffing and logistic costs associated with the operation of Bacchus Distribution. (10-K)
The company's Net Income rose on a decrease in SG&A and Cost of Goods sold in 2011.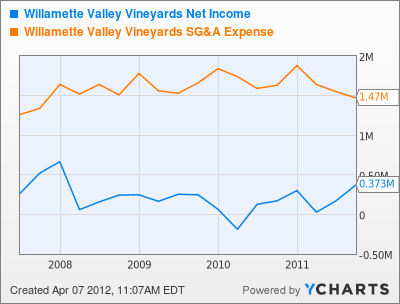 Williamette Valley Vineyards Inc. did take on more long term debt in 2011 after paying off a large portion of it in 2010. Some may see this as a liability, I see it as a sign of a healthy company preparing to expand.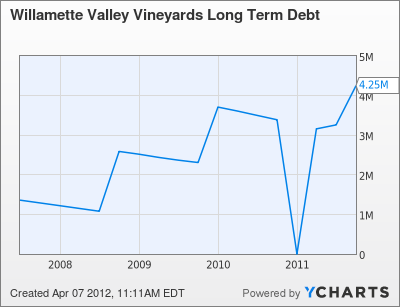 From the 10-K:
As of December 31, 2011, the Company had a total long-term debt balance of $4,193,917 owed to NW Farm Credit Services. The debt with NW Farm Credit Services was used to finance the Hospitality Center, invest in winery equipment to increase the Company's winemaking capacity, complete the storage facility, acquire new vineyard land for future development and, most recently, to upgrade the Hospitality Center and other property infrastructure.
Williamette Valley Vineyards seems to be poised for growth. It was rated, one of the best companies to work for in Oregon. It has an award winning product; its Pinot Noir wine. It definitely deserves a close look.
Disclosure: I have no positions in any stocks mentioned, but may initiate a long position in WVVI over the next 72 hours.
Disclaimer: My articles are invitations to do your own research and nothing more. If you like my ideas please click the follow button.