Apple's (AAPL) stock has made an incredible run over the past five years. The share price has grown 560% in that five year period. Up until the fourth quarter of 2011, this growth has been steady. Since the fourth quarter Apple's share price has grown at an incredible rate. One reason for this was strong fiscal first quarter results as well as a bull market. While it appears Apple's stock has no sign of slowing down anytime soon, we have seen this kind of stock price movement before.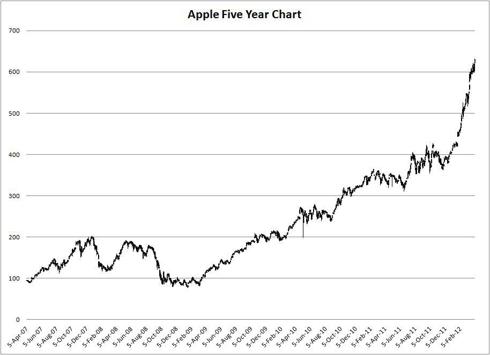 (Chart courtesy of StopETFs.)
This is very similar to Cisco's (CSCO) chart from 1995-2000.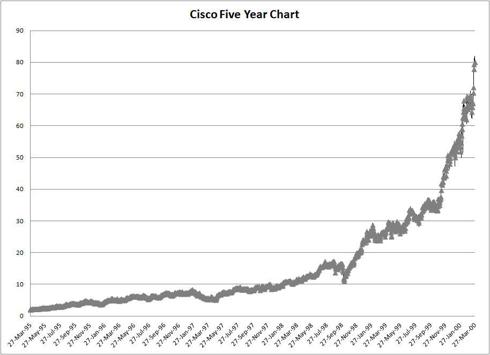 (Chart courtesy of StopETFs)
I am not insinuating that Apple is in store for a massive collapse in the near future; in fact I remain bullish towards Apple. But Apple's April 24th earnings report will certainly serve as a possible catalyst for a correction. And as the stock continues to climb higher, revenue and income will need to surpass upwardly revised expectations in order for the stock to hold the current valuation. I am optimistic Apple will beat expectations; but if Apple misses, we will see a steep correction.
Looking at the charts more closely there are two important trends to note. The first is that both stocks followed a fairly steady positive growth trend prior to a parabolic growth rate. This is important because it indicates that Apple's stock will not be able to sustain these gains at some point. The difficult aspect of this is determining when Apple's stock will be unable to sustain the valuation. The stock may slide after earnings, or after it reaches $1,000 per share. Perhaps Berkshire Hathaway (BRK.A) should be concerned about losing it's "Most Expensive Stock" honor at some point?
The second important trend to note between the charts is a sharp correction prior to the parabolic rally. Pair this with the steady growth prior to the slight correction and it illustrates that demand for these stocks was very high. Also, these corrections were part of a broader market correction. Therefore the pullback was not due to any weakness in the particular stock. And once the market weakness dissipated, investors bought Cisco and Apple by the hand full.
The importance of this chart comparison is to show that Apple's impressive rally is not unique. In fact dozens of Technology giants experienced the same parabolic movement over a decade ago. While I am bullish towards Apple at the moment one has to sit back in awe at Apple's rally. If another big earnings release is presented we will see Apple above 700 per share by May.
Unfortunately, just like in 2000, investors will not know when Apple's stock reaches its ultimate peak. But with Apple's share price turning parabolic we will likely see a short term pullback in the near future. Nothing to sell the farm on, but enough to cause the stock price to reconsider the current trend and perhaps tread with less reckless abandonment in the future. In fact, I am not anticipating a Cisco like collapse to happen to Apple. Apple's business will at least be able to hold the share price at current levels over the long term. But then again that is likely what investors said in 2000.
Disclosure: I have no positions in any stocks mentioned, and no plans to initiate any positions within the next 72 hours.