The prospect of more Federal Reserve money printing continues to be the most important factor driving precious metals prices over the short-term as gold and silver experienced a vicious sell-off on Tuesday when minutes from the last Fed policy meeting were released indicating that the central bank was distancing itself from another round of quantitative easing. The Fed was seen as being disinclined to provide more help to the U.S. economy unless it deteriorated badly, but Friday's disappointing labor report is now seen as being a potentially big step in that direction.
The days ahead should be particularly important in setting the tone for gold trading during the rest of the month as technical levels were breached last week, however, the return of Indian jewelers to the gold market after ending a three-week long strike over import duties should provide much needed support in physical markets.
For the week, the spot gold price fell 2.3 percent, from $1,668.70 an ounce to $1,631.10, and the silver price fell 1.7 percent, from $32.28 an ounce to $31.71. Gold is now up just 4.1 percent for the year, down 15.2 percent from its high last year, and the silver price has gained 13.8 percent so far in 2012, now down 35.9 percent from its peak last spring.
Gold and silver prices are expected to rally when trading begins on Monday since markets were closed on Friday when the weaker-than-expected labor market was revealed and Fed Chief Ben Bernanke is set to make a speech in Atlanta on Monday night during which he is likely to provide some assurances to markets, particularly after stock futures plunged in limited trading on Friday.
It's all a sorry state of affairs if you ask me - that markets have become so dependent upon easy money from the Fed (or the prospect of easy money) that they throw "temper tantrums" when they get the feeling that Bernanke and crew are about to stop the central bank largess.
To make matters worse for gold investors, you now have pundits declaring the long-term gold bull market to be over based largely on the most recent Fed comments, Dennis Gartman proclaiming on CNBC last Wednesday (as detailed in this Barron's report) that we've already seen the secular peak in the gold price when, in truth, the ongoing correction is a very ordinary one as shown below.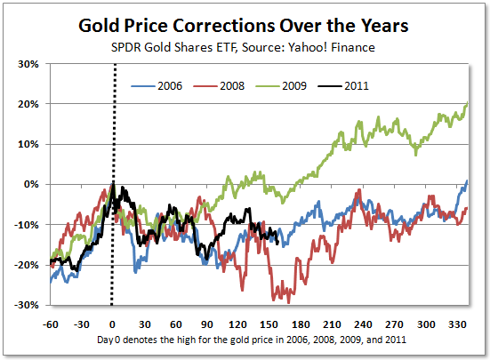 I haven't updated this chart in months and was a bit surprised to see the current correction almost exactly where the 2006 correction was at this point - average by any stretch of the imagination and not what you'd expect to see after a climactic end to a secular bull market.
Rest assured we are far from a peak in the gold price for all the reasons I've been laying out in recent months, but the period ahead could be trying.
I've been writing for weeks now that, absent a major change in the economy and an improved outlook for more Fed money printing, we may have to wait until the fall for precious metals prices to rebound and that outcome would be consistent with what has happened in past corrections as indicated above.
But, the odds of a rebound occurring sooner rather than later increased substantially after Friday's labor report and word that the Indian jewelers strike is now over will also buoy the gold market. Renewed buying interest in India should pick up in the days and weeks ahead as the gold-jewelry trade association agreed on Friday to end their 20-day strike over import duties after Finance Minister Pranab Mukherjee promised to look into reducing or scrapping the new taxes.
Recall that, in mid-March, spurred by the need to close a budget and trade gap, the government announced a doubling of the import taxes on gold to four percent and announced a new excise tax on most gold jewelry sales. Since Indian gold imports are second only to oil imports, this represented a hefty revenue increase, but, as often happens when something is taxed, it discouraged purchases and gold imports plunged more than 50 percent in March from a year ago as a result.
The first quarter has been a disaster for Indian gold imports as a doubling of the import tax to 2 percent in January and the announcement of another doubling in March saw imports for the first three months of the year plunge from 283 tonnes in 2011 to just 90 tonnes in 2012. Silver imports tumbled even more, down from 300-400 tonnes last year to just 20 tonnes this year, according to the Bombay Bullion Association.
But on Friday, gold-jewelry trade representatives met with government officials and India's finance minister assured them the government will "fully satisfy" their demands and the strike was called off until May 11th when another, more favorable announcement from Parliament is expected.
Many analysts at big investment banks have remained bullish throughout the recent price declines for precious metals and, with the one-two combination of Friday's labor report and an end to the strike in India, they are likely to become even more bullish. Last week, Bank of America reiterated their call for a $2,000 an ounce gold price this year after a weakening U.S. economy spurs another round of quantitative easing from the Fed and Societe Generale said they view current gold prices as a buying opportunity since they expect the economy to surprise to the downside in the months ahead, spurring the central bank to action.
Disclosure: I am long GLD, SLV.
Additional disclosure: I also own gold and silver coins and bars.