My email inbox becomes quite full with requests to show how to recognize this or that market turn; in truth, it is even easier than that to recognize. All the investor need do is pay attention to each tick, if he is a day trader and each daily (or weekly) bar if she is an investor. The tells are found therein.

For example, since capturing the market's low trade with this post, the market has proceeded to trade quite bullishly (yesterday included). Yes, you could view even sideways trading action as bullish -- when contrasted with the directional ferocity of the decline immediately prior. Let's look closer...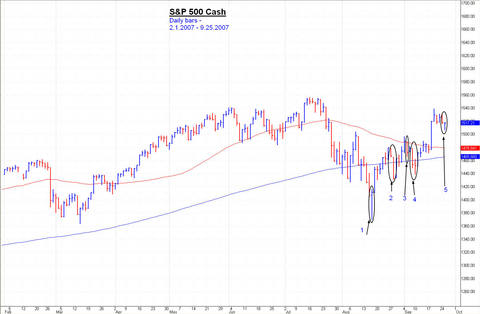 When I wrote the
Market Thoughts, part 2
post, and then subsequent to the market's reversal that day, the stock blog world was alive with the sound of chatter to keep far away from the market -- but each market commentator simply failed to examine the bars with any depth (of understanding). Picking up real time (since the reversal), Point 1 captures the market turn, and points 2, 3, 4, and 5 each show a market that wants to feint weakness but in fact is strong, strong, strong. Each head fake lower lacks follow-through, with no more than 2 consecutive days of downside activity; this fails the litmus test of a cluster of 3 or more
consecutive
directional days. In fact, the reversal yesterday occurred on the second day, which thus betraus a market that increases and gathers strength (momentum).
I rely on four crucial indicators:
price, volume, area patterns
, and
trend
. (I have discussed these items previously.) But buried in the fine print of the four indicators are the subtle clues, one of which I share above (and in the linked post). Know these indicators, keep them close to you, abide by their signals, and you cannot go wrong. Of course, all of the foregoing presupposes your time frame; the longer your investment horizon, the more these oscillations sqeeze down into ephemeral trials and tribulations.
The item most encouraging is that several of my
9 Core Opportunities
have already traded to new all time highs, while the market itself meanders. Yes, the market is almost straight up from the artificial inception point of its reversal, but the more time added to the study, the clearer the picture becomes of its sideways action since its upside breach of ~1375 one year ago. This action is understandable, as it lingers (hovers) before assaulting (retreating from) the former all time high of 1530-1550. Continue to watch those daily bars, and ask questions here for more understanding, if desired.
It has been too long a time since I last reviewed my favored investment opportunities; so, forthwith, however briefly...
Apple/AAPL:
New all time high yesterday (Tuesday). I see nothing in the chart action - yet - that indicates a
major
price reversal, although the shares have risen 10-fold in the past 3 years, which presents its own challenges. (Recall my admonition re obvious trends.)
Chipotle Mexican Grill/CMG:
New all time high on Monday, with every indication its primary uptrend has plenty of room to continue.
Colgate-Palmolive/CL:
Appears to be breaking out - now - from its
'TR'
base into new all time highs.
Google/GOOG:
New all time high on Monday, with many, many more new highs to come.
Intuitive Surgical/ISRG:
New all time high set Wednesday, 19 September, with many more higher highs yet to come.
Isis Pharmaceuticals/ISIS:
Its major, and primary, base is now resolved
bullishly
, with the breakout above $13 during the first week of September. Higher highs to come.
J Crew/JCG:
Still working on its new, intermediate term base; in fact, it languishes near crucial support. I see nothing bearish - yet - unless the shares breach crucial support at ~$40.
Johnson & Johnson/JNJ:
Nears the resolution of its major, and profoundly bullish,
ascending triangle
.
MasterCard/MA:
Continues to look excellent, as
MA
nears its base breakout -- first level at ~$150, second level at ~$160.
MEMC Electronic Material/WFR:
Five (5) months into a beautiful base atop a (larger) base (formed above its breakout into new highs above ~$50), a new and more profound bullish breakout looms just ahead, with subsequent higher prices.
Research in Motion/RIMM:
New all time high yesterday, with higher highs yet to occur. The air is getting thin up here, however, as with
AAPL
.
Riverbed Technology/RVBD:
Continues to build an excellent intermediate term base.
Under Armour/UA:
No sign of a negative reversal, despite the brief scare several months ago and the funky short term base it builds these past several weeks.
So there it is: amid much gnashing of teeth during July and August, you, my readers, are long the market at its turn, and hold many of its leaders that trade already at new all time highs. Congratulations!
Full Disclosure:
Long the
Core Opportunities
, and many others as well.