Each earnings season, we spend time researching the top growth and value combinations of reporting companies to find what companies might see the best price increases during the quarter. Today, we have provided you with some of our top picks and trading ideas for this earnings season.
We select these stocks based on hours of researching the companies that are offering the best combination of growth and value in the upcoming earnings season. We are looking for companies that are growing sales and earnings heavily along with still offering good value in the marketplace.
Here are our top selections: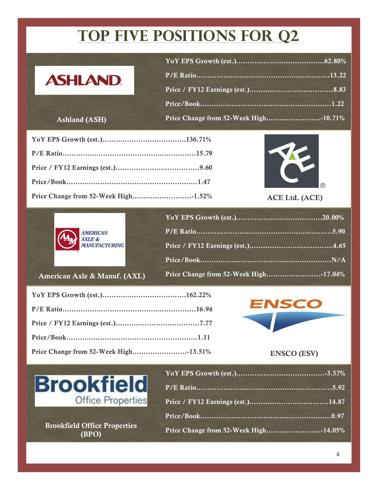 Ashland (ASH) -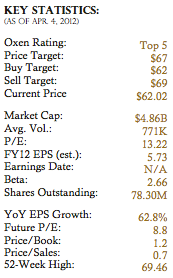 Ashland is one of our favorite companies in the chemical industry, and we have coverage on the company with a Buy rating and $72 price target. The company is a great story as well. They have solid growth with 63% expected earnings growth YoY along with solid value at a 13 P/E. The industry average P/E is 17.5.
We like ASH to continue higher from here. The company should be seeing a move of about 0.54 in EPS, which will bring EPS to 5.23. 5.23 x 13 = 68. We believe pre-earnings should see a move to the 64 area and 68 post-earnings.
The company has beat earnings for five straight quarters and continues to see solid growth despite issues in Europe. We see the company as having some solid earnings and revenue growth due to a lack of cyclicality in their oil business with Valvoline and specialty chemicals.
The company has amazing value. They are sitting at a sub-9 future P/E and sub-1 price-to-sales ratio. Value is really good to see with such great growth, and we believe shares are primed to breakout. Some fear may be built into shares with Europe woes, but we believe of many chemical companies they sit well positioned to improve margins even with tougher market conditions.
We like ASH to hold onto the 60-62 area during any weakness in the market and start to trend higher as we get closer to earnings, which should be in late May.
Ace Ltd. (ACE) -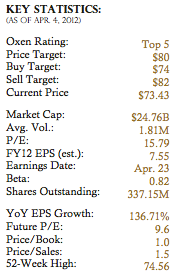 ACE is an insurance company that specializes in property and casualty in North America as well as reinsurance in global markets. The company is looking to report a solid quarter with an EPS improvement from 0.79 to 1.87, which is a tremendous improvement YoY. That improvement of EPS of 1.08 will bring EPS to 5.73.
5.73 x 15.5 P/E = $88. So, we see ACE from a mathematical standpoint as very undervalued. The price-to-book is 1.0 and future P/E is below 10. The company has been on a great uptrend that is slow and steady for past two years, and we look at the company continuing that path into and out of earnings.
The company's fundamental strength comes from its Swiss base and the ability to take on excessive insurance risks for its worldwide client base. The company's growth and value is very solid, and downside risk seems limited. The company has beaten earnings over the past year, and we see them as trending higher into their April 23rd earnings.
The company has built a great company network that we believe will allow for it to continue to prosper even during these tough economic times in Europe. The company has seen some premium declines in its crop underwriting business as those valuations have come down, but the growth still outweighs value.
American Axle & Manufacturing (AXL) -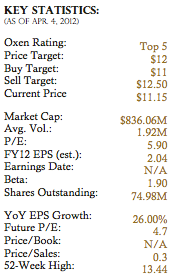 The automotive industry is looking very strong right now. Car sales are very strong, and we believe that auto parts companies are going to have quite a nice earnings season ahead in Q2 that may surprise traders. One of the companies that we see with the most value in this space is American Axle.
The company makes mostly axle and drivetrains, and with car sales on the way up, American Axle is busy. The company is expected to see 17% revenue growth and 26% EPS growth. The growth of EPS by 0.13 will bring TTM FY EPS to 2.02. That number times the 5.9 P/E brings our price to $12.
We believe that $12 is a minimum target for the company, and a surprise in earnings, which should be expected, will take things even higher. While the auto industry is continuing to adjust to changing demand, auto suppliers are often hurt by those changes. We believe, however, that AXL has priced in weakness. P/S is at 0.3. That ratio is about as low as it gets, so we see mostly upside for this company from here.
The company is consistently beating earnings, and we see no reason that would slow down as auto sales are showing so much strength right now. The company's move into Sweden is also a great place for growth as well.
Overall, if you like the auto industry's strength and growth, here is a company that is growing with it and has value.
ENSCO (ESV) -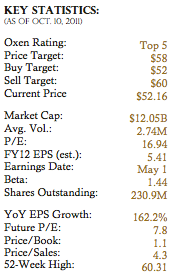 Another place of growth has been the oil market. Pricing and sales growth have been positives for the market, and ESV is looking at tremendous growth with EPS jumping from 0.45 to 1.17 as well as sales increasing 194%. The company is seeing a ton of growth that is going to be reflected in the stock price eventually.
The company is a little bit overvalued in price currently in the oil and gas-drilling sector, but even the growth in EPS x a lower P/E still shows upside. The TTM FY EPS will improve to 3.80. 3.8 x 13.5 (industry average P/E) is 51. That number is right around the current price, and that is if the P/E dropped to industry average. The company, though, is a great growth stock and should have some higher valuations than its industry average.
ESV is seeing a lot of growth as offshore drilling has picked back up, and its growth and value combination makes it a tremendous earnings play. Future P/E is under 8, which is 50% below current P/E, meaning a lot of growth in share price is coming.
One issue for ESV is that oil prices have weakened, and that price shift will definitely influence ESV over the next few weeks. If oil continues to weaken, it will hurt ENSCO. Oil services have been hurting, technically, as well. ESV, though, has remained strong.
Our top picks for the large-cap sector are ACE and ESV as well as Fifth Third Bank (FITB), Canadian Natural Resources (CNQ), and Teva (TEVA). Our top five mid-cap picks are ASH and BPO as well as Spirit Aerosystems (SPR), Regal Entertainment (RGC), and Trinity Industries (TRN). Out top five small-cap picks are AXL as well as Newpark Resources (NR), Stone Energy (SGY), Belo (BLC), and Cathay (CATY).