Shares of Aerovironment (NASDAQ:AVAV) surged 8 percent Wednesday, continuing to show impressive strength in the midst of a broader rally in defense stocks. I've been stalking the company for a while, and sensing the strength I decided to open up a sizable position at $22.97.
Aeroviroment is one of the most exciting companies in the defense sector, as it is currently the exclusive provider of small, backpack carried unmanned aerial vehicles to the U.S. military. The company currently has three main divisions: UAV's, fast-charge electric batteries, and paid R&D division. However, the UAV division is clearly the dominant division, account for more than 80 percent of revenues in each of the last three years. Meanwhile, the electric battery division also contributes significantly to revenue, accounting for a further 10-15 percent.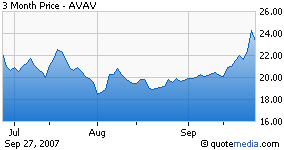 In the field of UAV's, the company's star product is the Raven UAV, which is a lightweight (< 5lbs), backpack carried UAV that can be carried by squad and platoon sized units to aid in real time surveillance and reconnaissance. The Raven, which is currently being used in Iraq and Afghanistan, has been a truly transformational technology for US troops, as it has given small units over the horizon reconnaissance capabilities that permits these units to see around buildings and over ridgelines. The unit is easy to use and relatively inexpensive (at a cost of less than $200,000 per unit), and has truly been a force multiplier in both Iraq and Afghanistan. As a result, the Department of Defense agreed in 2005 to a contract to procure the Raven worth up to $333 million by 2010. Thus far, the company has fulfilled about a third of the contract.
The company also has several other UAV's deployed with the military, as well as an interesting pipeline of future UAV's. For example, AVAV is in the process of developing a backpack carried UAV capable of delivering small explosive charges. As well, the company has a potentially very lucrative project in the pipeline known as the Global Observer, a high altitude, long range UAV capable of flying at altitudes around 65,000 feet and loitering for a week. In fact, the company announced its first initial contract for this project from the DoD today after the bell to construct 3 Global Observer systems for further evaluation. The contract, worth at least $57 million and potentially worth over $100 million, positions the company well for potential follow on contracts.
With current contracts for its UAV's, Aerovironment currently has a funded backlog of over $61 million, with an unfunded backlog (ie, contracted but not yet appropriated by Congress) of over $450 million. This provides solid near term revenue visibility and impressive long term revenue potential, a virtue which makes many of the defense companies so attractive in this uncertain economic environment.
As well, the company has a significant opportunity to expand sales internationally, as well as to expand the use of these small UAV's to non-military entities. The company received just 5% of revenues internationally in 2007, but appears poised to take advantage of the opportunity created by the NATO coalition in Afghanistan over the next year. As the Raven has already become the standard for small UAV's operated by the U.S. military, the company has a strong advantage in procuring contracts from NATO partners looking to equip their soldiers with small UAV's that have interoperability with US military communications and platforms. In fact, the company's recent small contract with Denmark provides an indication of the potential opportunity to expand internationally, which would be a very significant breakthrough for the company. Finally, the company has also targeted applications for their small UAV's, touting their potential for border security and other law enforcement and security applications.
AVAV certainly has an interesting growth story, and the company has sported 30 percent revenue growth over the last three years. For fiscal year 2008, the company has guided for revenue growth of 20-25 percent, a seemingly conservative guidance in light of the substantial contracts for the Raven and Global Observer as well as the potential to expand internationally. Based on historical operating performance, the company doesn't appear to have much room to expand margins, but top line growth should continue to fall to the bottom line and increase earnings.
As well, the company sports a spotless balance sheet, with over $100 million in cash, no debt, and a current ratio of 6.6. The company's cash pot amounts for more than 20% of the overall market cap, giving Aerovironment the ability to quickly take advantage of acquisition or other opportunities that would add to the bottom line.
Finally, AVAV sports a very reasonable valuation, trading at less than 20 times 2007 earnings. For a company with solid earnings visibility, a huge potential backlog, a spotless balance sheet, and top line growth exceeding 20 percent, a 20 multiple appears to be very reasonable. In fact, with the growth environment looking more uncertain today, the visibility of AVAV's revenue stream should begin to command a premium valuation, giving the possibility for significant margin expansion.
Disclosure: Author is long AVAV