Financial companies from banks to brokerages to lenders to insurers have been battered by Wall Street. Active investors have not only fled, but many have pledged not to return until 2009.
Yet British-born billionaire investor Joseph Lewis and America's second richest man, Warren Buffett, have a different idea; specifically, both Lewis and Buffett have shown more than a passing interest in owning a significant stake in the financial world's most beleaguered investment house, Bear Stearns.
Does this mean Bear Stearns is a valuable addition to your portfolio, with its stock down 35%? That depends on who you ask and how long you're willing to wait for a brand name to return to prominence.
More importantly, however, are the implications of Lewis and Buffett's reported activities. These men... brilliant, revered, rich... see huge value in the financial sector. While others are waiting for the smoke to clear, they're ready to put up the dough.
You don't have to be Warren Buffett or Joseph Lewis to profit, nor do you need to be willing to gamble on the brand name recognition of Bear Stearns. The largest companies in the financial sector -- Citigroup, JP Morgan Chase, Bank of America, Wahcovia, American Express, AIG -- are poised to rebound. (And they're poised to rebound sooner than many think.)
Think about it. New home sales not this slow since the year 2000? Data suggesting that economic expansion is waning?
Clearly, the monetary policy "powers-that-be" will continue cutting rates to minimize the lending crisis/real estate bust. What's more, rate-cutting activity gives the financial companies both the historical and financial edge in the stock market.
So how does an ETF investor forge ahead? The safest play is the tried-and-true S&P 500 SPDR (NYSEARCA:SPY). At least 20% of the largest companies in this index are financial companies.
The iShares Dow Jones Financials Index Fund (NYSEARCA:IYF) is a more focused effort to capitalize on a changing environment. Bear Stearns and Morgan Stanley are in there, for better or worse. But you're going to get a broad slice of all the big names mentioned above (i.e., Bank of America, AIG, American Express, etc.).
Personally, I see the banks getting an upper hand over brokerages and insurers. A sub-segment approach might look to the KBW Bank Index (NYSEARCA:KBE). You'll have less diversification with the Bank Index, but your risk is mitigated by a very attractive 5% annual yield.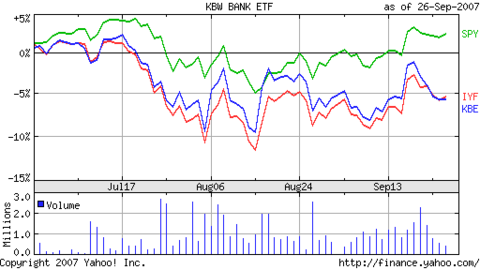 Disclosure: As a Registered Investment Advisor, Pacific Park Financial, Inc. may hold positions in the ETFs, mutual funds and/or index funds mentioned above.