During extended equity rallies, daily ranges tend to contract. And in the recent past - usually, but not always - larger daily ranges are associated with swift bearish moves.
For the cash S&P 500 index, if this contraction gets to be at or less than 1% of the price of the index, especially for an extended period of time, then the cash S&P 500 is susceptible to correcting. This has been a very timely heuristic since January 2007.
In this time of risk-on/risk-off trading, the timing of an S&P 500 correction is very important, and so I created an indicator that I call the Range Contraction Indicator (RCI) by taking an average of the daily range going back n-periods and then dividing by price. (I'm sure this concept is being used elsewhere in similar ways, but after not finding anything initially, I simply gave it a descriptive name for my own purposes that I'm also using here.)
The RCI gives me an idea as to when the S&P 500 is ripe for a strong corrective move. As a simple filter, I have this indicator first close below 0.9% and then close back above 1.1%. When the RCI did meet the above conditions, I highlighted the daily cash S&P 500 charts with a vertical line.
In the charts below, these vertical lines appear in the upper panel and in the lower panel, where the RCI is displayed.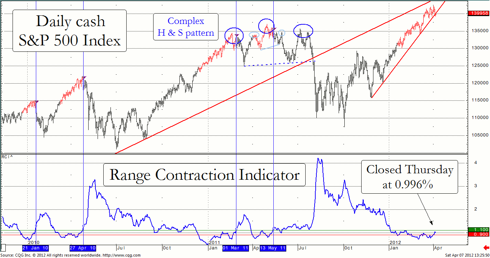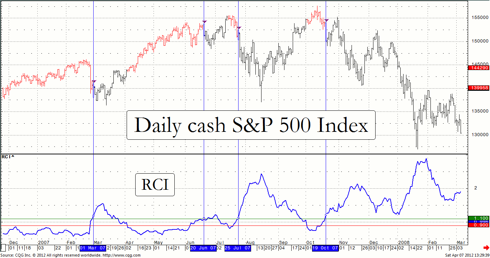 For the current bullish move, the RCI closed below 0.9% on January 20 and has yet to close back above 1.1%. It closed Thursday (4/5/2012) at 0.996%.
For Monday (4/9/2012), a 25 point drop in the cash S&P 500 along with a close at or below 1380.00 would allow the RCI to cross back above 1.1% - signaling that expanding ranges (usually associated with bearish moves) could be at hand.
The RCI isn't necessarily a trading signal - it's not always that precise - but if one were to initiate a short position on the day of the RCI crossing back above 1.1%, then an exit above the daily or previous week's high would be suggested.
Prior to 2007, this 1% RCI threshold becomes less effective when one-year S&P 500 volatility levels are below 10%. If the RCI is adjusted for volatility, then it is applicable to not only the S&P 500 on a continuous basis, but to other markets as well.
Since January 2007, the one-year historical volatility measurement I use (smoothed with a large simple moving average) has ranged from 10% to 42%.
For commodities, diminishing ranges can be found nearer to significant lows when prices are basing as opposed to equities and fixed income when daily ranges can diminish nearer to the highs.
My research on the universal applicability is on-going. But again, given the high correlation that the markets have developed towards the equity market, this can be a useful indicator unto itself.
Disclosure: I have no positions in any stocks mentioned, and no plans to initiate any positions within the next 72 hours.