By Carl Howe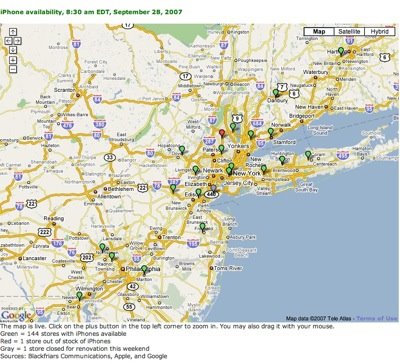 There was lots of iPhone news last week, what with the Version 1.1.1 software update and the many hacked phones that no longer operate with the new update. There have been some reports of completely unmodified iPhones becoming inoperable after the update; fortunately, it appears that Apple (NASDAQ:AAPL) Geniuses have methods that may be able to fix such phones fairly quickly.

Both Robert (my son) and I were fortunate in that we had no issues with the upgrade. I was careful, however, to take all the rest of my USB devices off the USB bus and connected my iPhone directly to my PowerBook during the update. My Powerbook only runs USB 1.0, and I have noticed timeouts in the past because of that's bus's slow (12 MBps) speed. But connected directly with no other devices competing, it all worked like a champ.

All that said, demand for iPhones continues unabated, and Apple has responded to the out of stock conditions at its stores earlier this week. As you can see in the map above, Apple restocked all its stores for this coming last selling weekend of its fiscal year. Only the Tice's Corner Apple store in Woodcliff Lake, NJ is reporting out of stock on iPhones, and the Staten Island store is closed for renovation this weekend. But that still leaves 167 Apple Stores available for your iPhone shopping convenience, in addition to the online Apple store (and the Apple refurb store).

Reader Tim McGuire passed on what I think are some very interesting comments collected from numerous blogs regarding the iPhones selling out recently. As we noted earlier in the week, some of recent demand appears to be from entrepreneurial gray marketers, who are buying phones for unlocked resale or export. I won't post all of them, but thought some of these commenters added interesting color to the story:

I was at the Apple Store Fifth Avenue last night. And, there were about 30 Indians or Asians from near-Indian. And, they were buying up 5 iPhones apeice repeatedly IN-CASH! They also kept trying to buy Gift cards in the exact amount of what 5 iPhones would cost (but they were not allowed by the Apple Employees who told them to tell their 'party' that no more Gift Cards will be sold. If they wanted to buy iPhones, they'd have to pay cash or credit card.)

Now, I know these guys were definitely going to mod their iPhones and either sell them locally or export them. They were buying over 200 units in cash!
So that's where a lot of units are going certainly. But iPhone arbitrage is only a piece of the Apple demand puzzle. Overall, it appears that Apple stores are continuing to be very crowded just because of consumer demand. Tim pointed me at an article over at IfoAppleStore.com noting that while the number of Apple Stores has been climbing rapidly, so has the average number of visitors to each store spiked around the holiday shopping seasons the last few years. You can see the effects for 2005 and 2006 in the following graph: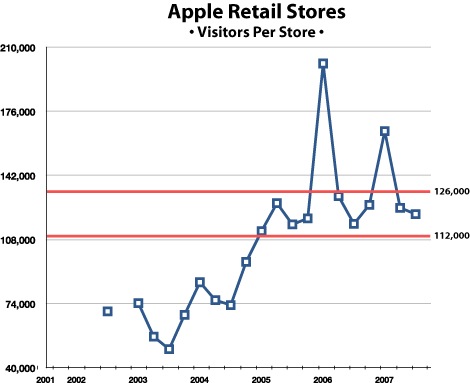 [Graphic courtesy of ifoAppleStore.com]
We don't have the third quarter data from Apple yet, but given the iPhone launch, I expect a sharp spike up for calendar Q3 and for the average to set a new high for calendar Q4.
And what about all those iPhones that are being bought with cash and unlocked? They are providing a nice, tidy third-party business for gray market exporters and software developers while Apple and its partners orchestrate the iPhone's launch internationally. Yes, Apple is going to do what it can to put the unlocking software vendors out of business, simply because its carrier contracts require it make its best efforts to honor their exclusive deals. But what software can do, other software can undo. And when prospective iPhone buyers in other countries are willing to spend thousands of dollars to get one and supply in those countries is limited to the gray market, someone will find a way to fulfill those customers. Meanwhile, Apple will just keep making and selling more iPhones -- regardless of where they end up.