Over the next week or so we'll be profiling the stocks in each sector of the S&P 500 based on various fundamentals relative to their groups. For our first profile, we look at the Technology sector since it has done so well lately.
Below we highlight the relative PEG (p/e to growth) and relative P/E ratios of Semiconductors, Software and Service Providers, and Hardware and Equipment Makers. Relative PEG compares the PEG ratio of the stock with the average PEG ratio of the group. A relative PEG less than 1 means it's better than average. The same holds true for the relative P/E ratio.
We have summed up the relative PEG and relative P/E to highlight the stocks that currently look the best based on these two fundamental measures. As shown below, WFR currently ranks at the top of the Semiconductors list even though it is up 56% year to date. NVLS ranks second and it is down 22%. AMD and MU rank at the bottom since they currently have a negative P/E ratio.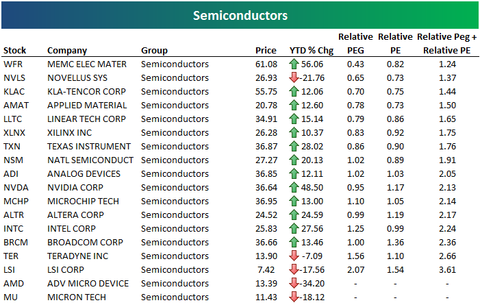 ACS, CVG and AKAM rank best in the Software and Services category. MSFT is in the middle of the pack, and GOOG and YHOO rank near the bottom.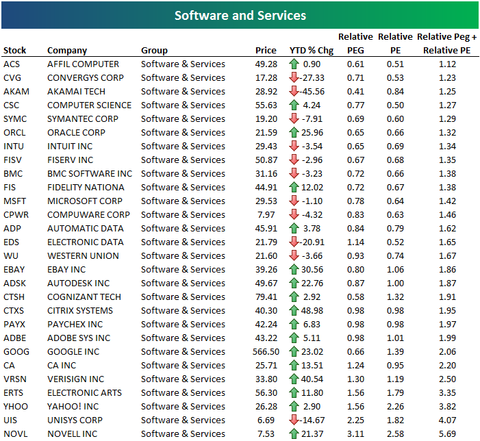 In the Hardware and Equipment group, Hewlett-Packard (NYSE:HPQ) and Corning (NYSE:GLW) both have solid PEG and P/E ratios, along with TEK, QLGC, IBM and QCOM. Motorola (MOT) ranks at the bottom.