Auto parts-maker BorgWarner (NYSE:BWA) should be suffering from slumping U.S. auto sales and recession fears. But industry-leading products like dual-transmissions and fuel-emissions reducers for diesel engines are increasingly popular, protecting BorgWarner from industry cycles and price wars. Europe and Asia account for 63% of sales and growing; just 15% of the company's revenues are expected to come from struggling U.S. automakers in 2009. BorgWarner's fuel efficiency systems and turbochargers have made diesels cleaner, stronger, cheaper at the pump and more enticing to Americans in the face of rising gas prices. Though Q2 auto manufacturing rose just 5% overseas, Borgwarner's sales rose 20% internationally. A cheaper dual transmission product for India also offers lucrative potential. Shares have risen 50% this year to $91.92, giving its shares an industry-aligned 18.5 times 2007 earnings of $4.86/share. But bulls say the stock is worth $105-$110. Analysts expect Borgwarner to continue its 14-year streak of 12% annual average revenue growth, and believe its Q3 financials will include more buybacks, a bigger dividend, a stock split and an upward-revised $1.9 billion order backlog (from $1.7B.) Raw materials and labor costs are expensive, but Borgwarner's good stewardship and financials should compensate. Goldman Sachs calls it a recession-defense stock.
Sources: Barron's
Commentary: Magna, Borgwarner, Wendy's, Applebee's Cited By Citigroup As Possible Takeover Candidates • State of the Union Address: Sectors and Stocks To Watch • Three Stock Picks For The Clean Car Evolution
Stocks/ETFs to watch: BWA. Competitors: HON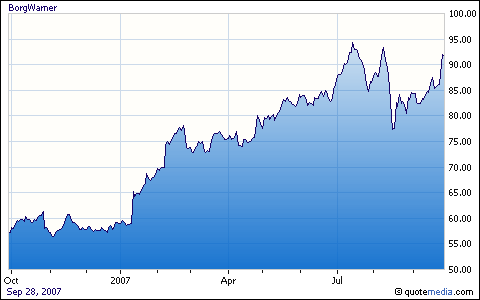 Seeking Alpha's news briefs are combined into a pre-market summary called Wall Street Breakfast. Get Wall Street Breakfast by email -- it's free and takes only seconds to sign up.