Seeking Alpha aggregates the work of writers on any specific stock, which means we can expediently be held accountable for prior opinions, unlike many pundits who only remind you when they're right.
Case in point, I have been increasingly contrarian on the bearish momentum of RadioShack (RSH) shares, beginning late February at $7 levels. It's approaching $6 now. Mea culpa, Modernist? Not so fast. Michael Houston, managing director for Grey New York says:

This brand has so much potential. We believe that with all the current cultural trends, there's no better time for an iconic brand like RadioShack. We can't wait to get started on our work together.
This comes from a story about RadioShack bringing in Grey New York to retry branding. Sure everyone, including Grey, says great things about the people paying them. But Michael Houston speaks the truth. "This brand has so much [currently fumbled] potential." [my words in brackets]
The steadily growing trend towards consumer devices and peripherals is what will allow RadioShack to sustain profit margins even without getting its brand right. It's what they do, more than how they do it, that dictates the bottom line. Go to a RadioShack outlet -- do you see televisions there? No ... so it's not Best Buy (BBY). But the market hasn't figured this out yet.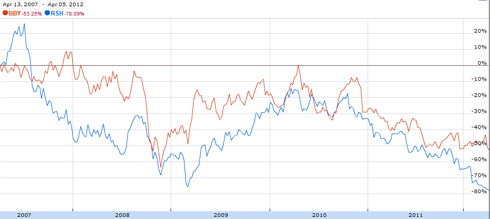 I propose two schemes for RadioShack: mediocre and competent. Mediocre puts a price target at $8.50. Competent is $12. Until I see proof, I assume they will be mediocre. But maybe this shakeup will lead to competency. Someone has to sell accessories for iPhones (AAPL) and Project Glass (GOOG). Shares are at $6. My view is, don't get too greedy playing "rock paper scissors" with traders guessing at the bottom.
One caveat: A big, current advantage of RadioShack stores is that sales are specialized within their niche. The ability to video chat with specialized representatives from any product line could dilute this advantage significantly. This could arise through several mediums, such as Glass or Ava (IRBT).
Disclosure: I have no positions in any stocks mentioned, and no plans to initiate any positions within the next 72 hours.