Whether or not AMR Corp. (NASDAQ:AMR), the parent of American Airlines, heeds last week's call for a spin-off of its frequent flier assets by an Icelandic Investment firm, Barron's says there's value to be had in the shares, which ended the week well below their $41 peak in January at $22.29. Among the issues that have plagued AMR are high fuel costs and the highest labor costs in the industry. Like other carriers, it also carries a lot of debt on its balance sheet. Reykjavik-based FL Group, which owns 9% of AMR, believes a spin-off of the AAdvantage program could boost shareholder value by $4B. Yet, even without the value from a split up, Barron's notes that the shares are attractive, trading at 9X 2007 estimates and just 6X analysts' forecasts for 2008, while the company is "solidly" profitable after a dry spell from 2001-2005. It also has a great route network, as well as valuable non-airline assets, according to Barron's, which thinks the shares could rise 50% or more over the next year.
Sources: Barron's
Commentary: FL Group to AMR Corp.: Separate Out Frequent Flyer Program • 21 Airline Stocks to Keep You Flying High This Summer
Stocks/ETFs to watch: AMR. Competitors: UAUA, CAL, DAL, LCC. ETFs: IYT
Earnings call transcript: AMR Q2 2007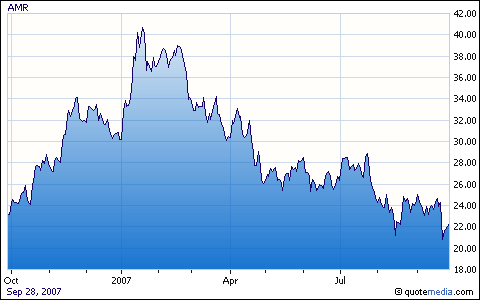 Seeking Alpha's news briefs are combined into a pre-market summary called Wall Street Breakfast. Get Wall Street Breakfast by email -- it's free and takes only seconds to sign up.