Dismal earnings reports from homebuilders Lennar Corp. (NYSE:LEN) and KB Home (NYSE:KBH) last week (full story I, II) offered more evidence of the toll the credit crisis is taking on the industry, leading Barron's to speculate the downward cycle may not end until some of the weakest players face bankruptcy. Many companies' share prices have already fallen anywhere from 15% to 70%, so much of the bad news already may be priced into the shares, but one analyst believes that by the fourth quarter many builders may not be generating enough cash flow to cover interest payments. For those interested in taking a chance on the sector, Barron's recommends sticking with those builders with the strongest balance sheets such as NVR (NYSE:NVR) and MDC Holdings (NYSE:MDC). Even better, the magazine suggests, is buying the industry's senior bonds, which it says are a safer bet than the shares.
Sources: Barron's
Commentary: A Look At U.S. Homebuilder Declines • A Bullish Call On Philly's Housing Sector Index
Stocks/ETFs to watch: NVR, MDC, LEN, KBH, TOL, CTX, HOV. ETFs: XHB, ITB
Earnings call transcript: Lennar Corporation Q3 2007, KB Home F3Q07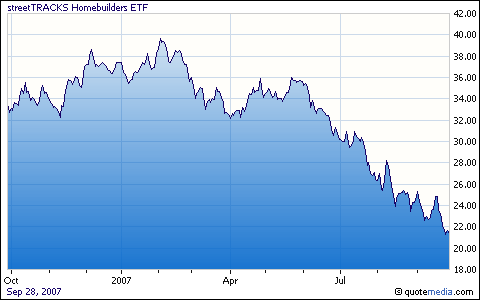 Seeking Alpha's news briefs are combined into a pre-market summary called Wall Street Breakfast. Get Wall Street Breakfast by email -- it's free and takes only seconds to sign up.