South Korea's benchmark Kospi index and the MSCI iShares (EWY) exchange-traded fund that tracks it is the third-best performing mainstream ETF so far this year. Up 29.6% through last Friday, EWY has only been bested by China and Thailand. The key question is whether the market is still attractive from a valuation perspective. It seems still cheap - Korea trades at a 24 per cent discount to the region on a price-to-book-value basis.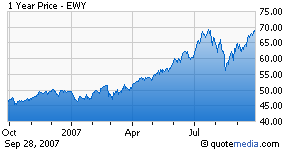 As the Financial Times point out, foreign investors have plenty of reasons to be wary about putting their money into South Korea. Asia's third largest economy is becoming an increasingly volatile place to do business - rules are changed retrospectively, tax treaties ignored, and the legal framework can be ignored when nationalism directed at foreign enterprises catches fire.
Recent gains have been largely fueled by Korean investors, foreign investors have been selling. Find out five reasons why and whether you should follow the locals or fund managers sitting in front of laptops in New York, Boston and London.
First, there is the growth factor. Korea cannot compete with the growth levels of emerging markets such as China and India plus its companies have the lowest dividend payout ratios in the region.

Then there is the "Korean discount" whereby the Korean market always seems to be trading at a discount to its Asian neighbors, a factor usually attributed to its industrial structure and huge conglomerates with extensive and complicated cross-holdings. If you look at relative valuations on a price-earnings basis, Korea's market is according to data from Thomson Datastream and Reuters, actually trading now just a bit over 13 times earnings. This is a higher valuation than Singapore, the UK, Netherlands and Sweden.

All this may help to explain why international investors have shedded Korean stocks for the past three years. But the trend has accelerated recently, with foreigners shedding a net $10.8bn of equities last month alone. They now own only 33 per cent of the Korean stock market, a level last seen in 2000, when the shockwaves of the Asian financial crisis were being felt.

On the other hand , return on equity is on a par with the region and Citigroup points out that Korean companies' average debt/equity ratio has dropped from 300-500 per cent before the crisis to just 22.5 per cent now. There has recently been passed legislation to open up South Korea's financial markets and it is also likely that a more business friendly president will be sworn in next year, bringing more economic reforms.

Then there are the Samsung and China factors.

Together, Samsung Electronics, POSCO, and Kookmin Bank account for 30% of South Korean ETF (NYSEARCA:EWY) and the stock market's market capitalization. Samsung alone accounts for 15% but the company is not a terrific play on the South Korean economy. Rather it is a global play on its three key markets and the expected payoff from its extraordinary commitment to R&D. The South Koreans are discontented because the five largest companies are growing outside the country more than in it and at a stage of development where it should be more competitive manufacturing onshore. The challenge is the low cost manufacturing platform with huge economies of scale just next door. The issue is China. Samsung already has already has 29 plants and 50,000 workers in China.

Since China is already starting to manufacture stuff like machine tools that the South Koreans were busily exporting during the last few years, South Korean planners believe it must quickly transform itself into a finance, communications and transportation hub, akin to the role of Singapore or Switzerland.

The question then becomes does it have the right companies, the right skills and what is its competitive advantage?