Targeted Genetics (Nasdaq: TGEN) is a clinical stage biotech company that focuses on the development of a novel class of treatments for serious diseases based on gene therapy. This emerging medical technology has the potential to treat or prevent a wide range of diseases, including HIV/AIDS, inflammatory arthritis, Huntington's diseases, and congestive heart failure. Gene therapy involves the use of a delivery vehicle (referred to as a vector) plus specific genetic material in order to cause desired changes among targeted cells in the body based on the disease model. Once genetic material is delivered into the targeted cells, the gene leads to the production of specific proteins that it encodes for. Gene therapy can be tailored to re-program cells to produce more of a certain protein or produce different proteins than normal in order to treat or prevent a disease state. Gene therapy may also be used for RNA interference (RNAi) for the targeted delivery of small RNA molecules that act to shut down or interfere with cellular functions for a specific clinical outcome.
Adeno-associated virus [AAV] is a naturally occurring virus that is not associated with any disease in humans. AAV-based vectors can be applied for the efficient delivery of genetic information to numerous cell types and can be engineered to carry a variety of DNA sequences. AAV vector particles are stable and persist in cells for extended periods of time, but they do not integrate into chromosomal DNA. This combination of attributes makes AAV vectors particularly useful in the treatment of chronic diseases such as arthritis. Targeted Genetics is primarily focused on the use of AAV vectors in their pipeline for the following conditions: inflammatory arthritis, HIV/AIDS, congestive heart failure, Huntington's disease, and high cholesterol levels.
The Company is developing an AAV-based product candidate (tgAAC94) for inflammatory arthritis that is designed to deliver a potent inhibitor of tumor necrosis factor alpha (TNF-alpha), a key mediator of inflammation. TNF-alpha inhibition is a validated therapeutic strategy for treating a variety of inflammatory diseases, as evidenced by the approval of three systemic TNF-alpha inhibitors. tgAAC94 utilizes the Company's AAV vector platform to deliver a DNA sequence encoding an inhibitor of TNF-alpha, a potent pro-inflammatory cytokine that plays a major role in inflammatory arthritis. The product candidate is designed for local administration into inflamed joints for use in patients who, despite being treated with systemic TNF-alpha antagonists, have one or more joints that continue to be inflamed.
The product candidate is also being developed for patients who may benefit from localized rather than systemic treatment of their disease. In animal models of arthritis, local administration of tgAAC94 resulted in a profound suppression of arthritis, as evidenced by a reduction in bone and cartilage destruction, inflammatory cells and pro-inflammatory cytokines, including a reduction in circulating levels of TNF- alpha. According to the American College of Rheumatology and the Centers for Disease Control and Prevention, two to three million people in the US are living with inflammatory arthritis, including rheumatoid arthritis (NYSE:RA), psoriatic arthritis, and ankylosing spondylitis. Inflammatory arthritis leads to significant morbidity, loss of productivity, and healthcare spending, with an estimated 15% to 40% of patients suffering from RA who are only partial responders to the TNF-alpha inhibitor drugs.

In partnership with the International AIDS Vaccine Initiative [IAVI] and researchers at Columbus Children's Research Institute and Children's Hospital of Philadelphia, the Company is developing an AAV-based prophylactic vaccine candidate (tgAAC09) designed to protect against HIV infection and/or prevent progression to AIDS in people who become infected with HIV. AAV-based vaccines are used to deliver specific HIV antigens that are intended to stimulate the immune system to fight against the HIV virus. This prophylactic vaccine is based on HIV subtype C, which is the virus believed to be most prevalent in Africa and Asia. tgAAC09 consists of selected HIV genes and cannot cause HIV infection or AIDS.
In December 2005, the Company was named as a subcontractor in a $22 million NIAID contract with The Children's Hospital of Philadelphia and Columbus Children's Research Institute to develop AAV-based HIV/AIDS for worldwide use. Under the contract, the Company is set to receive up to $18 million of the total over 5 years, which represents a significant opportunity. According to the World Health Organization, an estimated 40 million people worldwide are living with HIV infections, nearly all of whom are expected to experience life-threatening HIV-related complications within the next two decades. Although advances in prevention, diagnosis and treatment have helped to improve and extend the lives of many HIV-positive individuals, the worldwide incidence of HIV/AIDS continued to rise in 2004. The problem is most acute in developing nations where access to anti-retroviral drugs is limited.
In collaboration with Celladon Corporation, the Company is evaluating the utility of its AAV vector technology to deliver genes and gene variants from Celladon's portfolio that may have therapeutic benefit in the treatment of congestive heart failure. The National Heart, Lung and Blood Institute estimates that five million people in the US alone have heart failure, and that a half million new cases are diagnosed annually. The Company and Sirna Therapeutics, since acquired by Merck (NYSE: MRK), are collaborating on the development of novel therapies for the treatment of Huntington's disease, an incurable neurodegenerative disorder. The collaboration combines the Company's AAV delivery platform with Sirna's expertise in RNA silencing (RNAi or RNA interference) technologies.
A key upcoming catalyst for Targeted Genetics is the likely removal of a clinical hold on its experimental, local treatment for inflammatory arthritis (tgAAC94), which I estimate is worth at least $1.00 per share or $20M based on the market reaction at the time the clinical hold was imposed. Recent molecular testing into the cause of the clinical trial death reveals that it was most likely from an unrelated fungal infection, as no replication of vector and only trace amounts of vector DNA in tissues outside the joint was revealed. A removal of this clinical hold is crucial to the Company, as it serves to restore investor confidence and revive the potential interest of commercial partners for later stage development of this program. The Company currently has $26 million in cash and a market cap of just $37 million; so investors are currently skeptical until the clinical hold issue is resolved favorably, which I believe is likely based on preliminary investigations into the clinical trial death. The Company has adequate liquidity for about one year thanks to a recent stock and warrant offering, providing the opportunity to emerge from the clinical hold without having to raise money at a depressed stock price.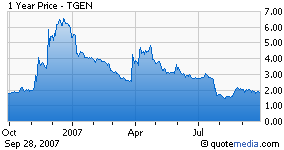 Disclosures: None