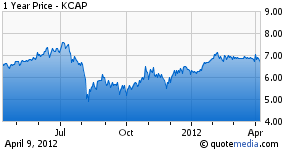 Monday is going to be interesting trading day after a dismal jobs report yesterday and worries about Europe again increasing. I believe the market is going to having a more cautious feel to it over the next couple of months. I am going to be deploying some of the cash in my portfolio as the market pulls back into high income equities that should prove to have lower volatility than the overall market if we hit increasing headwinds. One choice I think makes sense here is Kohlberg Capital Corporation (KCAP).
7 reasons KCAP is a solid choice for income investors at under $7 a share:
It yields a more than generous 10.5% and just recently raised its dividend payment after several challenging years.
Earnings are on the rise. The company made 70 cents a share in FY2011, and analysts have it making 80 cents a share in FY2012 and 91 cents a share in FY2013.
Revenues are also projected to increase smartly in the teens for both FY2012 and FY2013.
This high yielder goes for 7.5 times forward earnings and consensus earnings estimates for FY2012 have increased over the past two months.
The market seems to be under pricing its growth prospects as evident in its low five year projected PEG (.57).
Only two analysts cover the stock. One has a $8 price target on KCAP and the other $8.50. It also sells for just 87% of book value.
There has been no insider selling in the stock for quite some time and business development companies should do well in a growing economy, even if growth is below trend line.
Disclosure: I have no positions in any stocks mentioned, but may initiate a long position in KCAP over the next 72 hours.