The stock market closed one of its best quarters on record, with Q1 2012 achieving the strongest performance since 1998. The Dow Jones Industrial Average, S&P 500 Index and the Nasdaq composite finished the first quarter up 8%, 13% and 19%, respectively.
Data center related stocks also performed very well, with most companies achieving double-digit returns, and more than half of the names under our coverage surpassing returns of 20%, beating even the most challenging benchmark, the technology related Nasdaq composite.
First of all, here is a quick look at how data center related stocks behaved in March: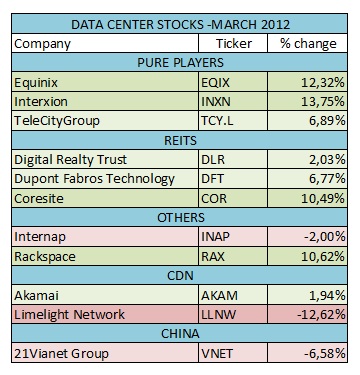 Network neutral colocation providers and REITs were all in the green, with CoreSite (COR), Equinix (EQIX) and Interxion (INXN) achieving returns of over 10% in a single month.
21Vianet (VNET), the Chinese provider of data center services, Limelight Network (LLNW) and Internap (INAP) represent the laggards in this list, losing 13%, 7% and 2%, respectively. This negative monthly result, however, still allows all of them to score a positive quarter, as we can see from the following chart: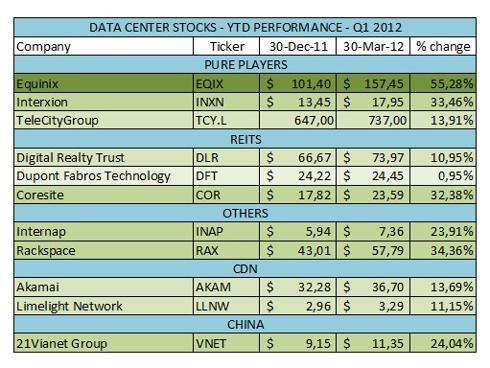 Equinix achieved a stellar return of 55% in a single quarter, with several other companies, like Rackspace (RAX), Interxion and CoreSite exceeding 30% gains in Q1 2012.
These performances, however, become even more interesting if we look at what happened in the last six months - having said that the Nasdaq gained about 36% from its October lows, data center related stocks delivered several outstanding returns, with almost half of the companies exceeding 50% increases: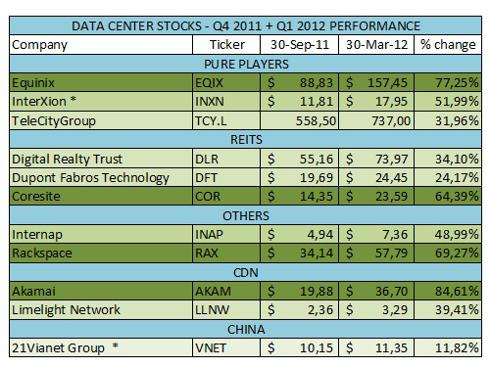 Akamai (AKAM) achieves the top spot in this time frame, showing an impressive 85% gain in the last six months alone - the stock, however, has been quite volatile, starting 2011 at a price of $ 32.28 (still a positive 14% to Q1 2012).
Dupont Fabros Technology (DFT) and Digital Realty (DLR), whose performances have been relatively less impressive in the last quarter, at least compared to their peers, still show gains of 24% and 34%, respectively, in the last six months.
What's next?
There is little doubt that, after such a strong run-up, a correction could be round the corner for most data center related stocks. However, the same could be said for the general market, that has shown an unexpected strength, so far, in spite of bad news from Europe (the Sovereign debt crisis), weakness in real estate prices, and analysts expectations for Q1 2012 earnings mostly in line or lower than last year.
We believe that a pull-back might now be due for the sector, and that investors should carefully listen to the next conference calls in order to develop their best strategy going forward. Akamai and Equinix will be among the first data center related companies to report Q1 2012 results, next April 25th. We believe that another bellwether of the sector, Digital Realty, will report earnings around that date. We expect Equinix to review their annual guidance, and increase revenue and adjusted EBITDA forecast for 2012.
As multiples in the sector are getting higher, due to the recent, strong up movements in share price, some stocks may now sound priced for perfection. Execution will be key to sustaining momentum, and investors will have to carefully look for individual company's confirmation of expected growth rates and margins, to avoid being involved in a downside movement that might also be larger than what you would expect in a normal bull market correction.
Disclosure: I am long (EQIX).