This article is part of a series on the companies that made Forbes' best CEOs of 2011 list. Earlier articles are on Amazon (AMZN), Chipotle Mexican Grill (CMG), and AutoZone (AZO).
Like AutoZone, the Chief Executive Officer of O'Reilly Automotive Inc. (ORLY) must have been one of the luckiest CEOs on the planet in 2011. The macroeconomic environment, together with positive changes in its stock valuation pushed for a brilliant year of stock performance. Is it going to last? Is O'Reilly a good investment at this price level? My judgment is no, not with the risk in the market.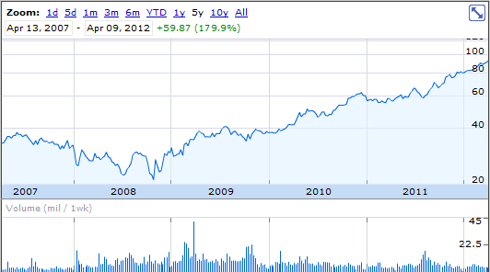 1. Macroeconomic environment
We have all just witnessed the worst financial crisis since the Great Depression. The unemployment rate has been high. People have been suffering financially. In turn, they put off their big price ticket purchases -- one of the leading victims is new cars. While consumers keep their old cars for longer, their cars require more maintenance. Hence the business at auto parts stores like O'Reilly Automotive booms.
But that's changing. During the past year, new car sales have been growing at double digits for most major auto manufacturers. Ford just had its best March since 2007. This also means auto parts stores' good days are coming close to an end. Within a few quarters, perhaps in 2013, the wind will eventually turn.
2. The company is buying and its insiders are selling
A company raises red flags when its insiders are selling while the company itself is buying shares, especially when the company's price is already at a high level. In 2011, O'Reilly spent $919 million on stock repurchase, while increasing borrowing by $439 million. Yet during the same period of time, its insiders had 78 selling transactions and sold a net of 1,001,687 shares. This leaves a trace of bitter taste about the integrity of the company's executives.
3. Growth
In 2011, O'Reilly's revenue grew by 7.2% to $5,789 million from $5,398 million. But its revenue growth rate slowed down from the previous year. During the same year, its net income grew by 21% to $508 million from $419 million. Another positive change at O'Reilly is its operating margin and profit margin. They improved from 12.10% in 2007 (pre-crisis) to 14.97%, from 7.69% in 2007 to 8.77%, respectively. With a price / earnings ratio of 25, O'Reilly appears fairly valued.
Looking forward, however, O'Reilly's revenue growth will almost surely slow down. Its further growth will have to count on improved margin. In this regards, its competitor AutoZone has a operating margin of 18.52% and profit margin of 10.52%. Both show the upside potential for O'Reilly's.
To evaluate how O'Reilly will perform by the end of 2013, I'm going to examine three scenarios:
The best scenario: O'Reilly continues its 7% revenue growth and improves its profit margin to 10.52% (AutoZone's).
The worst scenario: O'Reilly has 5% revenue growth and its profit margin drops to 7.69% (pre-crisis 2007 level).
The average scenario: O'Reilly has 6% revenue growth and its profit margin stays the same at 9.77%.
The following table shows that O'Reilly has significant downside risk if the market situation deteriorates. The market is pricing O'Reilly as if it were having a linear profit growth projection, a far too optimistic view in my opinion. Even for the average scenario, because of valuation drop with slowing growth, I do not expect to see a good return on investment.
Current

Best Scenario

(7% revenue growth, 10.52% profit margin)

Worst Scenario

(5% revenue growth, 7.69% profit margin)

Average

(6% revenue growth, 9.77% profit margin)

5,789

6,194

6,078

6,136

508

652

467

600

Profit Growth

--

28%

-8%

18%

P/E Ratio

--

28

8

18

Market Value

11,800

18,246

3,739

10,791

Investment Return

-68%

55%

-9%
In summary, compared to AutoZone, O'Reilly is a safer investment. History also suggests it is better managed. But as some say, when the bird nest falls from the tree, no egg can survive. All auto parts stores are counting on a long and painful recovery to outperform the market.
Disclosure: I have no positions in any stocks mentioned, and no plans to initiate any positions within the next 72 hours.