The online consumer electronics space is a competitive, yet valuable market. As technology rapidly improves, not only do retailers need new inventory — they need new strategies to keep up with a particularly savvy customer base. Best Buy (NYSE:BBY) recently declared they will increase focus on growing their online business; however in doing so they will have to take market share away from the two largest online retailers in the US: Amazon (NASDAQ:AMZN) and Walmart (NYSE:WMT). To better understand what lies ahead for Best Buy, it's important to fully digest the present landscape.
Using Compete's newly-developed online basket tracking, we looked across the competitive set of Amazon, Walmart, Target, and Best Buy to measure online purchase activity of consumer electronics products during Q4 2011. Looking at the share of electronics units sold online, Amazon sold almost 3X as many units as Walmart and 4X as many as Best Buy. Target came in a distant fourth.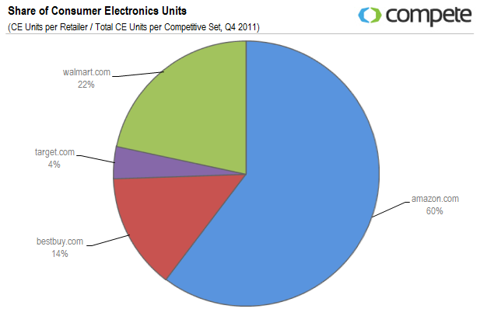 When we compared the share of units sold to the share of online electronics sales, an important shift occurred. Despite their dominance in units sold, Amazon had a much smaller lead in regards to the share of sales.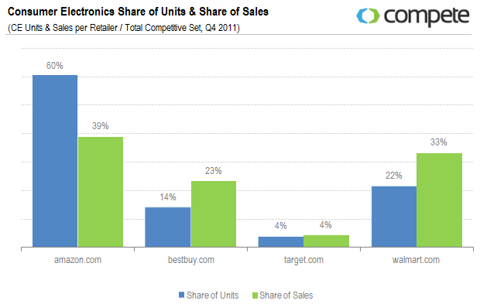 To help put the units vs. sales disparity in context, we dug deeper into how much shoppers were spending per order. Here we saw that Best Buy's average order value was nearly double that of Amazon. Electronics shoppers used Amazon for lower priced items (e.g. DVDs/Blu-Ray movies). Although e-books were not included in this measurement, the recent success and price-drop in Kindle devices certainly contributed as well. Meanwhile Best Buy's average order value was only marginally greater than Walmart's – who appear to be their primary rival for big-ticket items, such as computers and televisions.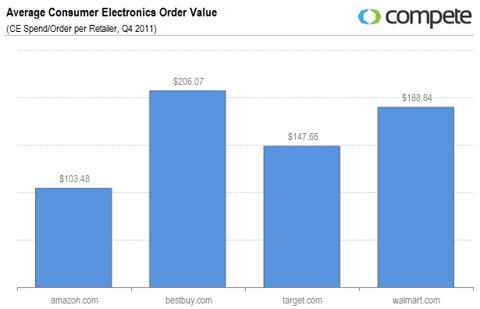 As Best Buy looks to grow their online market presence they will have to contend with massive retailers that sell most products under the sun. Overcoming such convenience will be an uphill struggle. It will be interesting to see how Best Buy contends with these massive rivals in a competitive market.