Just How Big is the China Bubble?
In one of our ETF country and sector rotation screens the screen keeps flashing "buy China" and it has been telling us this for a long time now. I can no longer find the stomach to buy into China ETFs and closed-end funds simply because the market has gone vertical and I've been through that pain before. Furthermore many of our clients remember it all too well also.
I really wanted to see just how big the bubble is so I did an overlay comparison of the NASDAQ Composite monthly closing prices for the 3 years leading up to the spring 2000 crash versus the monthly data for the last 3 years of the iShares FTSE/Xinhua China 25 Index (NYSEARCA:FXI). I chose the FXI basically because it's widely followed, easily understood, and has now been trading for 3 years.
The resulting linear comparison of the two indices is rather striking and the ascent of the FXI share price is on a nearly identical trajectory to the NASDAQ composite of early 2000. Will the Chinese stock market suffer the same fate as the NASDAQ? I cannot tell but it is clear to me that it will pullback sooner than later and we will all likely feel it no matter which markets we are invested in.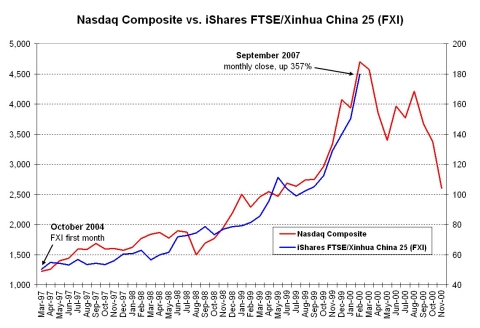 Full disclosure: many of our client account are long in the Nasdaq 100. None our our client accounts hold FXI.
This article was written by
Garrett Beauvais is a partner at MarketTrend Advisors (www.markettrendadvisors.com). Garrett serves as portfolio manager for many blended accounts, conducts stock and ETF research, and assists in the development of new portfolio strategies. Previously, Garrett was with Advanced Micro Devices performing a variety of roles in Corporate Strategy and Marketing in both the U.S. and Europe. In his most recent role, Garrett managed AMD's $200+ million global marketing budget for their microprocessor division. Prior to joining Advanced Micro Devices, Garrett facilitated North America market planning and venture investments for Kyocera Corporation and was responsible for Kyocera's first presence on the World Wide Web. Garrett holds an MBA from the University of Texas at Austin and a BA in Psychology from the University of California, San Diego. Garrett's desire to help individual investors began as a teaching assistant for Personal Family Finance at the University of Texas at Austin where he taught undergraduate lessons in investing, personal tax preparation, and Texas Family Law. Garrett holds a Series 65 license and is a Registered Investment Advisor with the S.E.C. and the Texas State Securities Board. Visit his site: www.MarketTrendAdvisors.com