Is there no price too high for VMware (NYSE:VMW)? The virtualization software company's shares continue to stampede ever higher. Having gone public recently at $29 a share, the stock has now tripled.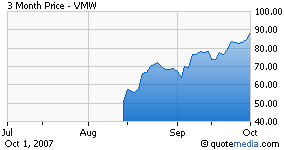 On Monday, Daniel Renouard, an analyst at Robert W. Baird, tried to inject a note of caution into the conversation, but to no avail. Renouard says his survey of VMware's resellers suggests there is "modest upside" to Street expectations for the third quarter, but not the blowout that many are expecting. He says his survey found nearly 40% of VMware resellers saying they are above plan for the quarter, with 48% on plan and 14% below plan. One quarter earlier, he says, a similar survey found 85% above plan non below plan.
"Given the recent run in the stock, we believe investors are fully expecting a solid beat and would likely be disappointed with less than $345-$350 million revenue," which would be up 82%-85%, versus the consensus of $331 million.
Renouard says that some resellers surveyed noted that "very recent discounting…was unusually aggressive," with some deals at 50% off list price. "While we don't think VMW will miss the quarter, we were surprised to hear of more aggressive tactics," he writes. Renouard maintains a Neutral rating on the stock.
VMware, though, marches ever higher. Note that EMC (EMC) owns about 86% of VMware's stock.