Are Research in Motion (RIMM) shares finally running out of steam? I can't help wondering about that as I peruse a trio of research reports on the company from Monday AM. Certainly fundamentals remain strong; the question is what you should pay for them. (Expect to see a lot of discussion on the topic this week, with earnings from the company coming up on Thursday.)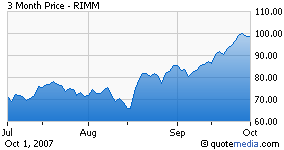 UBS analyst Jeffrey Fan this morning raised his EPS estimate for the fiscal second quarter ended August to 50 cents from 48 cents; he now sees revenue of $1.374 billion, up from $1.32 billion. (As he notes, guidance was for 46-50 cents, and the consensus is 49 cents.) He goes to $2.02 from $1.91 for fiscal 2008; for '09, he's up to $2.77, from $2.62. Fan's price target jumps to $120 from $93.33. Fan sees near-term strength from strong uptake of the CDMA version of the Pearl, pent-up demand for the Curve at T-Mobile, and 8830 strength at Verizon.
Meanwhile, FTN Midwest's Blaine Carroll also raised estimates for all time periods; he sees EPS of 50 cents for the quarter, $2.06 for '08 and $3 for '09. Carroll's price target is $120; he reiterated his Buy rating on the stock. He says that "market acceptance and adoption of smartphone devices continues to gain steam," and that the momentum RIMM has experieced over the past several quarters is continuing.
RBC Capital's Mike Abramsky today raised his 12-month price target on RIMM to $115 from $110. But he also reduced his rating on the stock to Outperform from "Top Pick." Why? the valuation is getting lofty, and estimates more realistic, he says. "While we expect superior growth, market share gains, new products…we see less room in consensus estimates for an upside surprise to drive stock performance," he wrote.
Abramsky also asserted that near-term catalysts are "increasingly priced in," and noted that at 44x forward 12 months P/E, the stock has "less margin of safety."