I decided to write this article because I just finished a series of articles about Simple Portfolio Building and a reoccurring theme from those articles was the impact of rising rates on the bonds in each of the portfolios. So I thought to myself "hey I'll try and build a portfolio that does not have bonds but has close to the same return and volatility as bonds."
I had a couple goals/criteria that I wanted for the portfolio, and they are listed below.
ETF choices must have greater than 100 Million AUM.
Make sure the portfolio is diversified as measured by correlations.
When choosing from funds chose the one with lowest volatility.
Weight the funds in the portfolio by their 12 month volatility over the past 3 years.
Be close to the same return and volatility as compared to iShares Barclays Aggregate Bond (AGG).
Portfolio
| | | | |
| --- | --- | --- | --- |
| Description | Symbol | Weight | Volatility |
| PowerShares DB US Dollar Index Bullish | (UUP) | 40% | 9.20% |
| WisdomTree Dreyfus Emerging Currency | (CEW) | 30% | 10.00% |
| Consumer Staples Select Sector SPDR | (XLP) | 20% | 14.50% |
| SPDR Gold Shares | (GLD) | 10% | 21.60% |
Fund Selection Method
For the following funds selection methods I will be using the TD Ameritrade ETF screener to find ETF's and also be using the ETFreplay.com volatility tool to see which of the ETF's has the lowest volatility.
Currency Fund 1:
For my first fund selection I will not use the TD Ameritrade screener for the following reason: I wanted a fund that had the "safe haven" appeal that treasury bonds have, so the other "Safe haven" that I know has a low volatility is the US Dollar so I included UUP in the portfolio.
Currency Fund 2:
For this selection I wanted a broad currency fund rather than a single country currency fund, using the TD Ameritrade screener and using the following criteria:
Morningstar Category: Currency
Total Assets: Greater than 100 Million.
There were 9 Currency ETF's that met this criteria but the only two that were broad based was PowerShares DB G10 Currency Harvest (DBV) and CEW. Then I went to the ETFreplay volatility found that CEW had a lower 12 month volatility over the past 3 years than DBV so I included CEW in the portfolio.
Physical Precious Metals Fund:
For this fund selection using the TD Ameritrade Screener using the same settings as the currency fund selection but changed Morningstar category to include all commodities ETF's. I found that there were 31 funds that met those criteria, and out of those 31 there were 8 physically backed funds, and the one with the lowest standard deviation was the GLD, so I included in the portfolio.
Equity Fund:
For the equity fund I decided to use the same methodology of selecting an equity fund as I used in my article about a Simple Total Return Portfolio. Using the ETFreplay volatility tool I compared all the Major Sector SPDR's and found that the least volatile one was the XLP, so I included XLP in the portfolio.
Returns & Data
Charts and return data from ETFreplay.com back test tool and Correlation chart from etfscreen.com.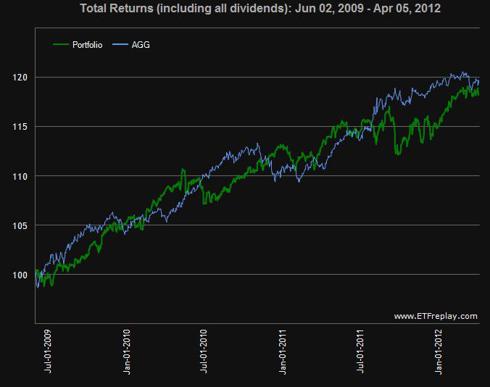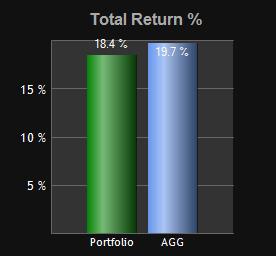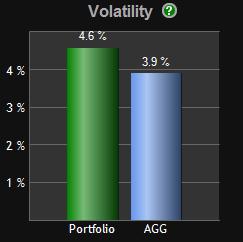 Correlations
| | | | | | |
| --- | --- | --- | --- | --- | --- |
|   | AGG | CEW | GLD | UUP | XLP |
| AGG | 1 |   |   |   |   |
| CEW | -0.4 | 1 |   |   |   |
| GLD | -0.09 | 0.58 | 1 |   |   |
| UUP | 0.41 | -0.8 | -0.55 | 1 |   |
| XLP | -0.48 | 0.66 | 0.39 | -0.65 | 1 |
Portfolio Challenges
The biggest challenge this portfolio will face is the portfolio will not provide very much income compared to AGG. According the quote page for AGG on Seeking Alpha AGG yields 2.66%, where as the above portfolio only XLP pays a dividend of 2.09%. It sounds close but XLP is only 20% of the portfolio, so the overall portfolio yield using the fund allocation weight x yield for each fund in the portfolio, and adding that up, gives a portfolio yield of about 0.42%.
Closing Thoughts
Overall I am pretty pleased with the portfolio I constructed because the Total return was only 1.3% less than that of AGG, and was very close in volatility. Also, I was surprised to see how diversified the portfolio was, with no fund being more than 66% correlated to another fund in the portfolio I thought was very good.
Disclosure: I have no positions in any stocks mentioned, and no plans to initiate any positions within the next 72 hours.