The Semiconductor Industry Association (SIA) announced on April 3 that worldwide semiconductor sales were $22.9 billion in February 2012, down 1.3% from January's $23.2 billion and 7.3% from February 2011. This follows a 2.7% drop in January. The chart below from SIA shows sales going back to1996 and the current slide in semiconductor sales since September 2010.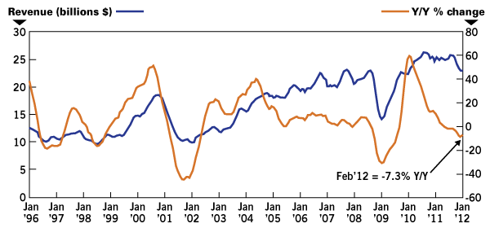 Most semiconductor companies' revenues were lower Q-to-Q. For example, Intel's (NASDAQ:INTC) revenue of $13.9 billion dropped by approximately $320 million, compared to Q3 2011, leading foundry Taiwan Semiconductor Manufacturing (NYSE:TSM) saw revenues fall from 106.4B to 104.7B, and Texas Instruments (NYSE:TXN) saw sales drop $46 million in Q4.
The chart below illustrates that chip sales are a direct correlation with macroeconomic forces. In this case, I plot chip sales versus change in GDP going back to 1972. with an estimate for 2012 of 2.5%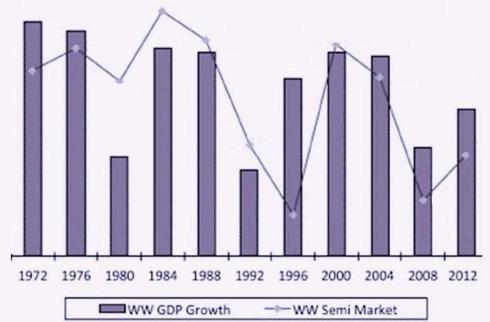 As chip sales are correlated with the macro economy, the only way to determine growth or non-growth is an accurate and intimate correlation between certain leading indicators and semiconductor.
The Information Network has fine tuned its Proprietary Leading Indicators (PLLs) over the past 15 years covering leading indicators from 40 different countries worldwide. Shown below is a plot of semiconductor sales versus PLLs. Note that data for the last 6 months of the PLLs have been purposely deleted as the information is for subscribers only. Nevertheless, of interest in the past 24 months is a double peak in both PLLs and semiconductor sales. Historic data on the chart show that the PLLs anticipate inflections in semiconductor sales by about 6 months.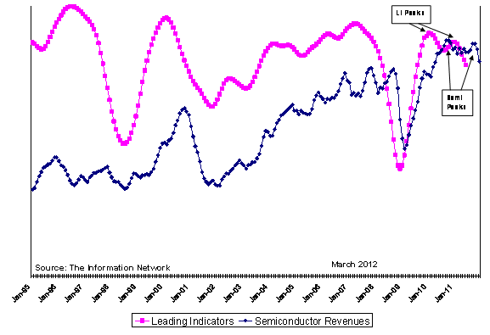 From these PLLs, it is clear that semiconductor sales will continue their downward trend through Q2 2012.
What does all this mean for investors? Q1 revenues will show a drop, that we know, but according to the analysis from The Information Network, Q2 revenues will also show a drop.
How long until the upturn? Already PLLs are showing growth in the U.S., Japan, and the Euro area, but Asia and in particular China are holding back a recovery. That may be a few months away pushing the downturn in semiconductors into Q3. And of course, this does not reflect any extenuating factors that could rock the macroeconomy such as a war with Iran or oil spikes.
Disclosure: I have no positions in any stocks mentioned, and no plans to initiate any positions within the next 72 hours.