By Naveen Reddy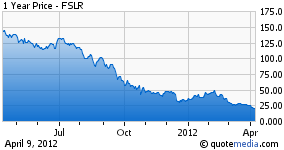 That First Solar (FSLR) is scraping the bottom at its 52-week low is hardly news. The stock has been in an unmistakable downward trajectory since February 2011 after churning in the $150 range for two years after the financial crisis. For those who were, and may still be, invested at the top, at its all-time high just north of $300, the current status of the stock has to be nothing if not depressing. Back in those heady days when the solar industry had 10,000 feet of runway in front of it, any company that had a whiff of solar in its name was awarded a handsome multiple. First Solar was the biggest star in an industry seen to have limitless potential. This all changed after the financial crisis, when once plentiful European solar subsidies collapsed along with the sovereign budgets that generously funded a solar build out across the continent. Then there was China, where the government which saw green tech as strategically important, was widely believed to have been supporting the local solar industry with direct subsidies. The entry of a multitude of Chinese players with lower cost structure and seemingly limitless output flooded the market with more panels than it could handle and further collapsed solar module prices.
The temptation for investors will be to bottom fish First Solar, which has an ostensibly low forward PE of 5, is one of the largest players in a still growing industry and produces a best in class technology. At some point, prices for solar modules will stabilize and government subsidies will come back. If you are thinking of loading up the boat in anticipation of a turn, GMI Ratings has some data you may want to consider. According to our proprietary measures, First Solar currently has a Very Aggressive AGR rating of 9, which places it in the 9th percentile (lower is worse) of all companies we cover, and very likely to experience further financial distress in the next year. The AGR is markedly down from an average rating of 43 in March 2010 when the company's outlook appeared to be better. In June 2010, First Solar's AGR dipped to 30, into what we consider Aggressive accounting territory, and never turned back. Individual flags for Operating Revenue/Operating Expense and R&D Expense/Operating Expense measured against industry peers started to appear as early as March 2008. Other industry benchmarked flags for Divestitures and Asset Turnover have appeared more recently. In addition to the above mentioned metrics, internally benchmarked metrics such as Accounts Receivable/Sales, Inventory/Cost of Goods Sold, Deferred Income Tax Assets LT/Operating Expense and Prepaid Expenses/Operating Expense have weakened as well.
One might argue that First Solar's reduced accounting quality is a result of temporary supply and price shocks in its key end markets, and that this situation will reverse once the solar industry's fortunes turn. Alternatively, these deteriorating metrics may provide a signal from management that its future prospects are not as good as once believed. The need to resort to creative accounting may arise from the harsh reality that First Solar operates in an industry with huge upfront capital investment, some, but limited, product differentiation and little overall pricing power. The intensity of this industry dynamic can ratchet up the pressure on management to make them do things they ordinarily would not do. This may include manipulating finances or taking undue risks. Investors must ask themselves, if a turn is around the corner, why is First Solar's AGR raising so many flags concerning its accounting quality.
Though First Solar has not been embroiled in major controversies that would indicate severe governance or corporate behavior deficiencies, such an event(s) would raise additional red flags.
A corollary can be drawn from the solar industry to another capital intensive and low pricing power industry - computer memory chips. In May 2010, 10 global memory chip companies settled with the EU for engaging in a cartel. While anti-competitive behavior can and does occur in any industry, the temptation to collude or engage in other risky governance or financial behavior would seem to be elevated in industries where pricing pressures are steep and product differentiation is low. Such is the situation for computer memory chips. Elpida Memory, one of the ten companies that engaged in the memory chip collusion, just recently declared bankruptcy. While anti-competitive behavior in and of itself is viewed as a governance negative, it additionally may, like poor accounting quality, signal that management views its own future prospects as poor, as it attempts artificially to inflate company finances.
New or existing First Solar investors will need to factor in its lower accounting quality along with any future adverse governance events in order determine if it the stock is still worth a look. The solar industry will no doubt continue to grow, the question is if any of the current players can thrive and provide an investment return that adequately compensates for the multitude of unresolved risks.
Disclosure: I have no positions in any stocks mentioned, and no plans to initiate any positions within the next 72 hours.