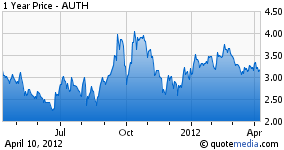 I have followed AuthenTec (NASDAQ:AUTH) for more than a year and I believe that now is the time to get long this growth stock at a reasonable price. AuthtenTec is a biometric and security software company that went public with an IPO in early 2007 via a spinoff from Harris Corp (NYSE:HRS). The company rode the wave of biometrics for a couple of years before, like most companies, being caught in the global depression.
Since then, the company has acquired strong assets to make its products more value-added (software intensive) and it has also diversified its product portfolio. The company turned an important corner in the past six months on an operating basis, on a pipeline basis, on a product offering basis and on an institutional investor basis which could move the shares to the $7-$8 range by late summer and a further move to $18-$20 by this time next year. Here's my evidence.
AuthenTec highlighted the strength in its new diversified business model when it turned profitable for the first time in two years in the third quarter of 2011, ahead of forecasts. This was the first sign that the company had restructured its model successfully and that its products were gaining traction across all product lines. The company supplies nine out of 10 laptop OEMs with biometric sensors, so they weren't immune to the Thailand floods which caused the company to lower Q4 guidance by $0.5 million. However, AuthenTec delivered another profitable fourth quarter in 2011 with results in line on revenues and they beat on earnings per share (EPS) with $0.04 vs. $0.02 estimate. The company enters 2012 with a solid foundation operationally and with an exciting product portfolio worth billions in total available market (TAM).
People the world over adore their smart phones and tablets like no other devices. As a result, the ecosystem for these devices has grown exponentially across many different platforms. The smart phone market should hit 1 billion units by 2015, up from 470 million units in 2011 while the tablet market is estimated to touch 300 million units by 2015. To give you a flavor of how immense these two markets are the laptop market is only approximately 65 million units.
AuthenTec has been putting efforts into enhancing the security of these devices and the content that is transferred to them. Since smart phones and laptops now hold our most intimate secrets, personal information and our confidential work data, they are more vulnerable of being breached. AuthenTec has built a sensor with an accompanying software to fortress these devices with your fingerprint (FP) or prints (multiple fingers) to protect data and more importantly, protect near field communication (NFC) electronic wallet transactions - the holy grail. For example: AuthenTec has been supplying Fijitsu smart phones in Japan with advanced sensors that facilitate NFC electronic wallet transactions for a few years now. Fujitsu will be extending these models to Europe in the second half of 2012 which I believe will be a big win for AuthenTec as it will make investors take notice of the huge potential of AuthenTec's portfolio on a 1.5 billion unit market.
On the opposite side of the ecosystem, AuthenTec signed up Time Warner's HBOgo which is a direct competitor of Netflix (NASDAQ:NFLX). AuthenTec built a digital rights management (DRM) solution that protects HBO's content from being copied or transferred to multiple devices. The DRM solution gets an upfront licensing fee with a royalty per download. The royalty will keep re-upping every time a subscriber to HBO buys a new device or adds another device.
Phones are lost, stolen, dropped, exchanged or updated many times per year. We should see a big up tick in royalties in Q2 as the new iPad was just released. Keeping to the security and mobile device theme the company also has a software product that allows employees' personal mobile phones to be security proof when on their employer's virtual private networks (VPNs). This product is a licensing offering directly to the device OEM and a royalty is paid to AuthenTec for each download per user.
IT departments are concerned that with more critical data on personal devices the chances of it being compromised are greater than ever, giving this type of solution strong demand. Last quarter, the company had 4 million phones download this application. For example: LG signed an OEM deal to have its phones come preloaded with AuthtenTec's VPN software. I see this product being a 75-100 million unit download per year in the next few years. Overall, AuthenTec has created a product offering that will eventually give them 10-20% of the entire smart phone security market with a sensor ($1.50), an advanced sensor ($2.50), VPN software or a DRM solutions download. They will all be very leveraged to the bottom line of AuthenTec's income statement.
The customer list for AuthenTec is impressive. Four handsets manufacturers: LG, Fijitsu, NEC and Motorola (NYSE:MMI) have adopted their FP sensors in some of their smart phones. All PC manufacturers except Apple use their sensors in some of their products. Two Asian carriers use the DRM solution for their subscribers (this provides stickiness to the carrier).
In Europe, they are present in eight countries where companies such as Orange, SkyDeutschland and others utilize their DRM solution. In the U.S., it has HBO, Cinemax and one unnamed content provider using the DRM solution. The CEO has told investors that his DRM pipeline is "pretty robust" and that some companies allow him to disclose the relationship while others do not for confidential purposes. Two things are certain with AuthenTec: more security is needed for mobile devices (NFC electronic payments) and more content will be provided/transferred to them. Here is why the stock should not be overlooked, the company has turned the corner and is now developing new products and has more intensive software offerings to be able to deliver them to world renown companies in a profitable way.
The company has been deliberate and determined in marketing the company to investors over the past six months. I have counted and witnessed the CEO at over five investor conferences since November 2011 (Needham, Noble, Roth, Imperial and Maxim). The company has done multiple city marketing tours (Philadelphia, Oregon, Chicago and Florida) to introduce to new investors the prospects of this exciting small cap company. In these six months, Dougherty, BWF and Noble have all initiated coverage on the name and Raymond James has upgraded the rating and the price target.
I believe that over the past six months, management has told its story to over a 100 new investors and gained the confidence of many existing stockholders. That said, the stock price hasn't budged, but has been building a solid base in the low $3 range. I remind you all, institutions need one to three months to build an earnings model before entering into a position. This CEO has been spot on with his commentary in relation to his execution. I view the CEO as a super conservative guy who doesn't mislead with hyperbole commentary. However, he told investors at the last conference call that he's hopeful that one day he will have a positive surprise coming to us.
This proactive approach has set the stage for a number of potentially large game changing events in the near to medium term. I think these events could land during first quarter earnings (historically May 1st-5th), the annual Jefferies Technology Conference in NYC May 7th-9th and/or the CTIA Wireless show in early May (a lot of NFC and security presentations). The company could provide their first increased outlook in two quarters, announce a new handset OEM going into volume production, a NFC partnerships, biometric sensor wins with India's government (enrolling the entire population to biometrics; 200 million people enrolled to date), news on China's government contract (bidding on sensors, AUTH recently won a contract with the Bank Of China) and/or new DRM, VPN wins. I also think the company may have a couple new firms kicking the tires as some of the firm's whose conferences they've attended have not initiated coverage (Needham, Citi, or Jefferies). This sets the stage for massive buying and volume in the weeks ahead.
The valuation for AuthenTec for very large markets and high gross margins seems too cheap to stay here for long. Raymond James had Q4 estimates of $18.4 million in revenue and $0.02 in profit and the company hit $18.8 million in revenue and $0.04 in profit. That was a glimpse of how much leverage the company has in its model. Analysts have them earnings $0.07 in 2012. I have AuthenTec earning $0.16 (0.02, 0.03, 0.05, 0.06) in 2012 up from a ($0.03) loss in 2011. But where the excitement comes is 2013, a news heavy April/May/June and/or solid results and encouraging language from the earnings call could bring my $0.36 (0.06, 0.08, 0.10, 0.12) estimate for 2013 into light.
Companies that grow their EPS 100% year over year in a market as large as smart phones and tablets (1.3 billion units) can get a 40-50 multiple at the peak of the cycle. Here's some companies that reached these growth rates and multiples: ZAGG (NASDAQ:ZAGG) - maker of protective screen covers, Cirrus Logic (NASDAQ:CRUS) - integrated circuits, TriQuint Semiconductors (TQNT) - amplifiers for the iPhone, OmniVision Technology (NASDAQ:OVTI) - cameras in smart phones, CEVA inc (NASDAQ:CEVA) - IP for chips in smart phones, Acme Packet Inc (NASDAQ:APKT) - networks, Lululemon Athletica (NASDAQ:LULU) - retail. I'm using a conservative 25 multiple on my high $0.36 estimate. I think this upcoming quarter's results and the important conferences surrounding the call will give credence to my estimate hence driving the shares to 52 week highs and above.
The longer the base the higher in space. I think Authentec's chart screams this slogan all the way to $7-$8 per share once it cracks a spread triple top at the $4.16 area with large volume (2-3 million shares). The chart has a large gap between $4.16 and $7.00 per share area. Gaps are known to be filled on the way up and down.
This company is as profitable as it has ever been ($300 million market cap at all time highs), the product offering has the potential to lock in 10-12% of the overall mobile market (laptops, tablets and smart phones) with FP sensor and another 10-12% by way of their DRM content download (content providers or carriers use this solution) and VPN download. Again, the company has two large bids for India and China as they covert their citizens to using biometric identification. All these areas of business are on track or just about to show signs of ramping while the shares trade at a $150 million market cap or half the valuation it received back in 2007 when it had weaker technology and less product offerings. Today is the day to get Authentec to secure your profits.
Disclosure: I am long AUTH.