As you know, based on my first missive (on Seeking Alpha), I have become very worried about the state of the global economy and the ramifications a turn down in Industrial Production will have on global markets. I feel that most investors, including my buy-side brethren, are completely missing just how close we are to the edge of the precipice because they are fixated on a handful of stocks [i.e. Apple (NASDAQ:AAPL)] which are dictating major market indices. For this piece, I would like to zone in and update a few of my favorite macroeconomic indicators.
First, I would be remiss not to discuss Friday's horrific Non-Farm payrolls report. Survey expectations of 205,000 jobs and a prior month reading of 207,000 jobs were met with actual results of 120k jobs created in March.
(click charts to enlarge)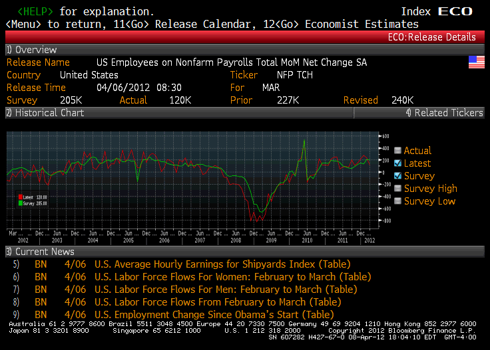 Source: Bloomberg, BLS
But the miss is not surprising. As shown in the above chart, Economists have been updating their linear extrapolation models for six months now, since being caught naked by the negative turn in the 2011 summer. Survey whiplash is not a trend reserved for the jobs report, but is wonderfully encapsulated in the Citigroup Economic Surprise Index, which continues to show marked deterioration. The index has been trending down for nearly two months and is about to cross the important zero line. Interestingly enough, the index began its precipitous decline about the same time last year.
Before I go on, I would like to intercept any criticism of this indicator. I realize that in and of itself, missing expectations isn't a big deal. Throughout the 2003-2007 bull market the Citigroup Economic Surprise Index had very little explanatory power. This was illustrated in a recent Business Insider article.
Who am I to argue with the results? The problem I have is with the analysis itself. A model cannot be created with one indicator that can have explanatory power. Rather, analysis and investing are iterative - requiring reassessment based on the data, day in and day out. Read on.
Late last week, the JP Morgan Global PMI was released. The index was down marginally, but for the second month in a row. Key components of the PMI, including the all important New Orders index, are at what I would refer to as "stall speed."

Source: JP Morgan
Though heavily influenced by U.S. survey responses, the Global PMI indicator is one of my favorite indicators. The indicator has particularly good efficacy as a "sell" indicator for global equities when it is below its historical median and trending down as it is today.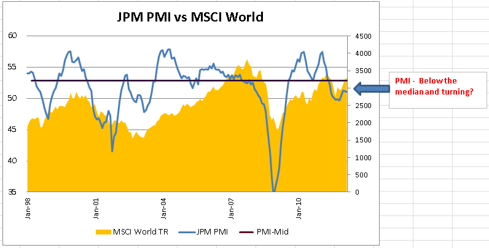 Source: Bloomberg
Based on the Citigroup Economic Surprise Index, the low-level readings in the PMI index, and technical turn in Industrials cited in my previous report, it is difficult for me to not rationally conclude we are walking 100 feet above ground on a tight-rope with no net. Furthermore, these data points call into question some or all of the rally in MSCI World since last October.
My last chart is of Copper. I am sure you have heard the terms "Dr. Copper" or the "Metal with a PhD in Economics." However, looking at the Copper chart in a vacuum could be downright confusing. But given the fundamental context I have provided, I believe the following chart should now be self-explanatory...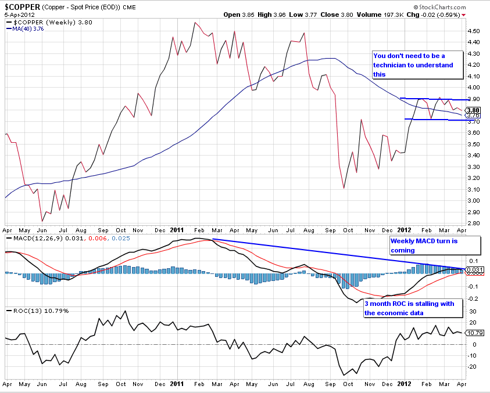 Source: Stockcharts.com
Conclusion:
Based on the intersection of additional fundamental and technical data points from my first missive, the global economy appears to be sleepwalking toward the edge of the precipice. In the past, it has been during these periods of structural weakness that we finally begin to see who is swimming naked.
Disclosure: I am currently trading US defensives (NYSEARCA:XLP) and Emerging Market Local Debt (NYSEARCA:EMLC) against short Emerging Market equity (NYSEARCA:EEM) and Small-Cap stocks (NYSEARCA:IWM).