So, by now you have probably heard: Apple (AAPL) is sitting on a cash pile of about $100 billion and plans to start paying a $2.65 per share quarterly dividend. On a yearly basis, this turns out to be a $10.60 dividend. I have read many different articles, both about Apple stock and the company itself, after the dividend announcement. The authors of these articles brag about Apple's amazing feats, wonder at its horde of cash, or ponder the question "Is the company becoming too big for itself?". Of course, the dividend opens up the possibility for funds (or even individuals) that have a mandate of only investing in dividend-paying stocks to now buy Apple stock. However, very few articles relate to how an Apple dividend would affect an individual investor. I recently asked myself the question "is the Apple dividend overrated?". In order to answer this question, I ran through some calculations and I will share them with you. I will explain how Apple's dividend affects the following ETFs, which I'm sure a prudent investor would own to get exposure to Apple:
First, I will explain some hard facts. Using the most recent closing price of AAPL, Apple's dividend would give rise to a dividend yield of 1.67%. This yield is slightly lower than the S&P 500's current average dividend yield of about 1.96%. Most people who write about the dividend dismiss the issue here. Apple's dividend is lower than the average dividend of the S&P 500, so it's nothing special, right? Wrong!! The dividend deserves a closer analysis.
In order to facilitate my analysis, I created an Excel spreadsheet, which can be seen as follows:

All data for this spreadsheet was taken from Google Finance, ETFReplay.com, or TDAmeritrade.
Continuing, one can see that the Apple dividend yield is less than both IWB's and SPY's average dividend yield. Thus, one would expect Apple's dividend to drag down and negatively affect the average dividend yield in these two ETFs. On the other hand, the Apple dividend yield is actually greater than both QQQ's and XLK's average dividend yield. Thus, the opposite effect can be expected: Apple's dividend will boost the average dividend yield in these two ETFs.
Next, I found 1 year returns for each ETF, first on a simple price appreciation basis and then on a total return basis (which includes dividends). Nothing is worth mentioning here, except maybe AAPL's astounding simple price appreciation return of 87.4% and total return of 89.07%.
I then turned to TDAmeritrade's website to find AAPL's weighting within each of the ETFs in this article. The weights are increasing going from IWB to XLK. That's because AAPL's weight in IWB, an ETF that tracks some 1,000 stocks, is very low. Advancing through the list, the number of holdings in each ETF decreases - about 500 for SPY, then about 100 for QQQ, and finally about 80 for XLK. As the number of holdings in each ETF decreases, the weighting of AAPL within those ETFs increases.
Using AAPL's total return and its weight in each ETF then allowed me to calculate AAPL's contribution to return for each ETF. The contribution to return is simply AAPL's weight in an ETF multiplied by AAPL's total return. If one did this for every holding in an ETF and added up the results, one would reach the total return for that ETF. This tells us that the return attributable to AAPL in IWB was 3.83%, in SPY it was 3.89%, and so on. I decided to graph the results as follows: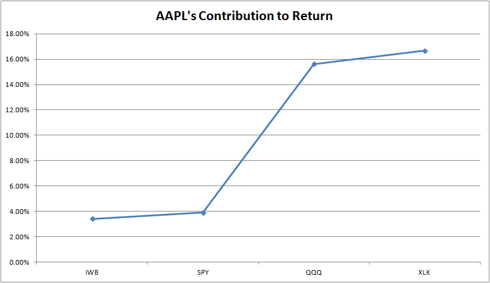 You might notice that the contribution to return dramatically increases going from IWB and SPY to QQQ and XLK. Why is this so? Well, it's because the weighting of AAPL in QQQ and XLK is much greater than the weighting in IWB and SPY (about 16% vs. about 3%).
Finally, now comes time for what this article is all about. I calculated the contribution to return from the Apple dividend as if Apple had paid a $10.60 dividend over the course of the past year. For IWB, this turns out to be 0.06%, for SPY it's 0.07%, for QQQ it's 0.29%, and for XLK it's 0.31%. On a percentage basis, this would have boosted performance by 1.05%, 1.07%, 1.52%, and 1.79%, respectively.
In the last section of my spreadsheet, for each ETF, I calculated a hypothetical 1 year total return with the Apple dividend and a 1 year total return without the Apple dividend. To visualize the results, I made the following graph: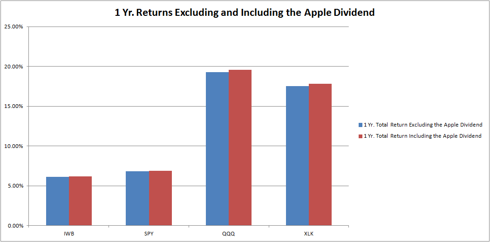 One can see that the difference the dividend makes in the total returns for IWB and SPY is very small - in fact, it's barely noticeable! In terms of numbers themselves, the boost to the return for IWB is only 0.06% and for SPY it's only 0.07%. On the other hand, one can see a definite difference in the returns for QQQ and XLK. QQQ's return was boosted by 0.29% and XLK's return was boosted by 0.31%.
Conclusion
To answer my original question, "is the Apple Dividend Overrated?", the answer seems to be both a yes and a no.
It all depends on how a prudent investor wants to take advantage of the dividend (this is assuming that exposure to Apple is achieved by owning an ETF or perhaps a mutual fund that tracks the same index an ETF tracks). For IWB and SPY, the 0.06-0.07% difference in return is so small that the Apple dividend barely makes a dent. Yet, it's not really anything to sneeze at either (as a professional working in the field of investing, I can tell you that a 0.02-0.03% difference is basically meaningless; 0.06-0.07% has only slightly more of an impact, even if it is on the small side). However, when it comes to QQQ and XLK, the difference of around 0.30% is material enough to have a definite impact. In conclusion, the effect of an Apple dividend on investors will most benefit those who own AAPL through an ETF or mutual fund that has a high concentration of AAPL shares.
Disclosure: I have no positions in any stocks mentioned, and no plans to initiate any positions within the next 72 hours.