There are numerous reasons why the Vanguard High Yield Dividend Index (VYM) can serve as a core holding for a portfolio. This dividend yielding fund could sit in the place of a core U.S. equity holding or broad market investment.
"VYM has one of the highest quality and most diverse portfolios among all high-yielding funds, mostly mimicking broad indexes such as the Russell 1000 Value Index while excluding non-yielding stocks. This allows Vanguard High Dividend Yield to provide diversification and quality benefits similar to broad U.S. stock indexes along with a higher income yield," Michael Rawson wrote in a recent Morningstar analyst report.
The ETF tracks the FTSE High Dividend Yield index, which in turn tracks stocks with above-average yields. According to Morningstar, VYM rates the fund above average in terms of return for the large-cap value category. The fund has proven to be less volatile than the S&P 500, reports Vincent Mao for Investors Business Daily.
Furthermore, VYM is a very liquid fund, with around 500,000 shares traded for the 50-day moving average. VYM also has an average yield of around 3%, compared to the 2.4% for the S&P 500.
However, VYM allows investors diversified exposure to companies such as Exxon Mobile (XOM), MicroSoft (MSFT), and Chevron (CVX). Also, some of the companies that are held in VYM have announced dividend raises this year. VYM is currently underweight in the financial sector, however, with the latest rally in the sector, this could change later on.
Other U.S. dividend ETFs include:
Vanguard High Yield Dividend Index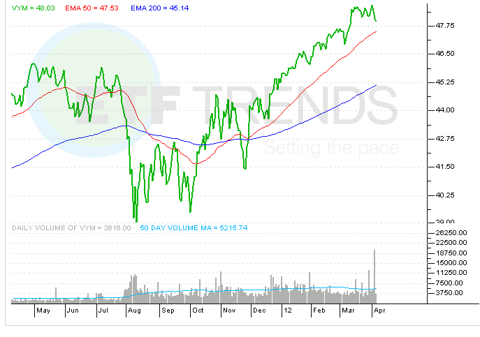 Tisha Guerrero contributed to this article.
Disclosure: I am long DVY, MSFT.
Additional disclosure: Tom Lydon's clients own DVY, MSFT.