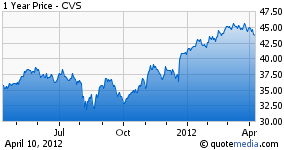 CVS Caremark (CVS) provides integrated pharmacy and healthcare services in the U.S. The company has the top spot in market value in its industry. The company is well-positioned to answer many healthcare needs of today and the future.
Current Growth
The company was able to achieve strong rates of growth in both top and bottom line, particularly in its retail business. The company had many successful projects such as MinuteClinic that paid off greatly in 2011. The company's revenue in 2011 was $107.10 billion, up 11.8% from $95.77 billion a year ago. The operating profit was up from $6.1 billion to $6.4 billion and EPS was up from $2.49 to $2.59. This also signifies all-time high revenues and EPS for the company. The company's PBM (pharmacy benefits management) business was the market leader as it has a customer retention rate of 98%.
Future Opportunities
Healthcare costs in U.S. have been increasing and this trend will not come to an end anytime soon. The U.S. population is getting older, there is a shortage of healthcare personnel and many Americans have problems taking care of their body sufficiently (e.g., eating and exercise habits). These issues will continue to drive healthcare costs up for the foreseeable future. In order to address some of these issues and turn them into opportunities, CVS is integrating its retail pharmacy, clinics and PBM businesses together.
I believe that the company's MinuteClinic project will also be a strong driver of growth for the company. MinuteClinic was established by CVS recently and these locations offer diagnoses and treatment of minor injuries or illnesses. The services offered also include health screenings, vaccinations and general physicals. By the end of 2011, MinuteClinic passed breakeven point, which means the investment already paid itself off. From here, it will start generating net profits for CVS.
Acquisition of Universal American was a great move for CVS and it has already started to pay off for the company. After the acquisition in August 2011, the companies combined and integrated their Medicare Prescription Drug Plans (PDPs). This move effectively doubled CVS' market share in the Medicare Part D program (prescription program partly subsidized by the federal government for citizens older than 65) and made the company the entity with the largest share in this market. The company is now able to offer a larger variety of services and products. Today, the U.S. government is paying for about 35% of all prescriptions in the country, and by next decade, this rate is expected to almost double. CVS will definitely benefit from this trend.
CVS' pharmacy locations are continuously gaining market share. In 2004, these retail locations had a market share of 13.5% and today the market share is up to 19.5%. Within the next decade, the company's retails will have a market share exceeding 25%. This is mostly due to the expansion of services and products offered in these locations in recent years. Also, 18% of the drugs sold in these locations are of CVS brand, and the company's goal for the next few years is to improve this number to 20%. These trends will present a huge opportunity for the company's growth prospects.
Conclusion
In the last 10 years, the company's share price appreciated by 221.5%, resulting in great returns for investors. During the same time period, the company's revenue per share grew by 167%, its free cash flow grew by 4050%, its EPS grew by 193% and its dividend rate grew by 465%. The company's current dividend yield is not very high (i.e., 1.52%) however it is likely to skyrocket once the company's growth slows down. The company is actively engaged in stock-buybacks and dividends. The company's P/E ratio shrank by 53% in the last decade and currently sits at 17.
In conclusion I would say that the company is fairly valued at the moment. I would recommend it for long term growth investors as the company will continue to see strong growth for the foreseeable future.
Disclosure: I have no positions in any stocks mentioned, and no plans to initiate any positions within the next 72 hours.