The market experienced a hiccup Monday on a poor jobs report and renewed concerns about Europe. Investors who were prudent enough to take profits recently or who have dry powder available should have better entry points in April as the six-month-old rally loses steam. One stock that has been punished over the last nine months that I am looking to pounce on when it hits $6 a share is Lone Pine Resources (LPR).
According to the company's business description on Yahoo Finance:
Lone Pine Resources Inc. engages in the exploration, development, and production of oil and gas properties in Canada. As of December 31, 2011, the company owned interests in approximately 57,382 net acres in the Evi field located in the Peace River Arch area of northern Alberta; approximately 157,779 net acres in the Deep Basin, including the Narraway/Ojay fields and the Wild River field located in Alberta and British Columbia; approximately 240,320 net acres in the Utica Shale located in Quebec; and approximately 52,995 net acres in the Liard Basin located in the Northwest Territories.
Here are six reasons Lone Pine Resources is deeply undervalued at just over $6 a share:
The stock has been punished in recent months due to low natural gas prices (it gets 73% of its production from natural gas). However, it has allocated 80% of its 2012 capital budget to oil production, which should increase margins and earnings. This should put oil production past 35% of production since 2012.
Insiders have kept their faith in the company and been net buyers over the prior six months.
The stock is way under analysts' price targets. Of the eight analysts who cover the company, the median analyst's price target is $11.50 a share.
Earnings are set to explode. The company earned 28 cents a share in FY2011, but analysts have it making 72 cents a share in FY2012 and $1.15 a share in FY2013.
The stock has an incredibly low five-year projected PEG (.12), and revenues are projected to increase over 40% in FY2012 and more than 25% in FY2013. It is also priced at just 11% above book value.
The stock has been cut in half since it was spun off from Forest Oil (FST), but looks as if it is building technical support at these levels (see chart below).
Click to enlarge.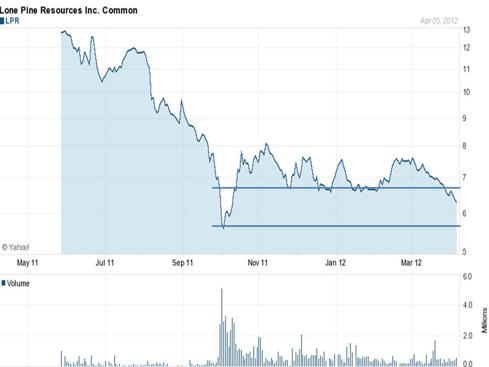 Disclosure: I have no positions in any stocks mentioned, but may initiate a long position in LPR over the next 72 hours.